Loathsome Characters
Posted Sun, 02/28/21
Kendrick Lester is probably the most loathsome character I've ever created. He is a sociopathic murderer, rapist, and all-out sadist. His quirks are tracked in the Bloodline Trilogy spreadsheet, which I rarely show to anyone because it is my basic character outline during the book-writing process, but here is a glimpse.

Kendrick makes his first appearance in Bloodlust. His son, Kirk, becomes the love interest of Kate Grady, who is the main character in the storyline. Kirk writes poems hinting at his horrific childhood and present life, which he in turn reads to Kate.
Bloodlust is not saturated with poems, but rather they manifest themselves during various points in the story. I wrote the handful of verse on the fly, always trying to compose them from the character's viewpoint. Here are a few of them: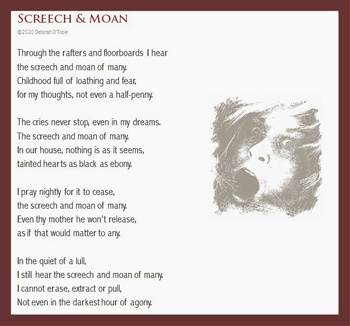 Above: "Screech & Moan." Click on image to view larger size in a new window
.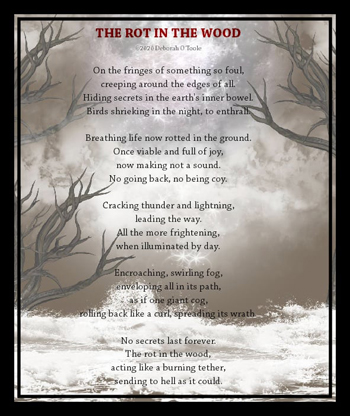 Above: "The Rot in the Wood." Click on image to view larger size in a new window
.
The poems will also appear in the upcoming collection Torn Bits & Pieces, to be released by Club Lighthouse Publishing later this year.

"Bloodlust" Released
Posted Fri, 02/26/21
(by yours truly writing as Deidre Dalton) was released by Club Lighthouse Publishing today. The book is available in paperback and Kindle editions at Amazon.
Noel and Pim's daughter Kate Grady has unusual powers which allow her to bend people to her will. At first she uses her gifts wisely, but then goes astray after falling in love with Kirk Lester. She finds herself honing her special powers to keep her place in Kirk's heart, no matter how evil or depraved life with him becomes.
was finalized at the end of January 2021, thanks to my editor, Palvi Sharma. I've never had children, but finishing the final draft of a book is probably the closest I'll ever come to the experience of letting go of a "child" who has reached adulthood and is ready to see the world for itself.
CEO Terrie Balmer of Club Lighthouse Publishing made the following remark on my Facebook page after I added the new cover for the book, thanking her for the spectacular rendition:
You're welcome. Not for the faint of heart is so spot on, Deb. While I was proof reading it, I just got into the story and couldn't let go! That's one of the reasons I was a little late in getting it up . . . sorry. Now I can hardly wait for Book #3 (Blood & Soul).
Once again, thanks to Terrie, Palvi and James from Club Lighthouse Publishing for their welcome input and invaluable assistance in bringing Bloodlust to fruition.

Tags: Bloodline Trilogy
Sequels X 3
Posted Sun, 02/21/21
Over the past few years, I've toyed with the idea of writing sequels to Celtic Remnants, the Collective Obsessions Saga (creating Book #9 in the series) and more recently, The Crypt Artist.
~ Celtic Remnants ~
The ending in Celtic Remnants certainly screams "sequel," and I'm currently considering the notion with a book tentatively titled Celtic Fragments.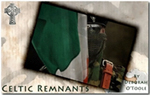 The main character in Celtic Remnants (Ava Egan) dies in the storyline, but those who have read the book know she actually lives. I'm leaning toward the idea of fast-forwarding the story to twenty years later, when Ava and the indomitable Tim O'Casey are safely living incognito in America. Ava's daughter, Chee, would be an adult in such a scenario. Through a chance encounter with her father's old secretary, Chee discovers clues that lead her to believe Ava is still alive, and she acts accordingly.
I'm still developing more ideas for the storyline as of this writing, so keep your eyes peeled for more in the coming months.
~ Collective Obsessions Saga ~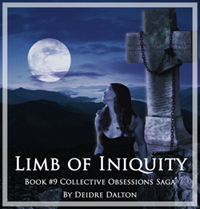 Tentatively titled Limb of Iniquity, a possible 9th book in the Collective Obsessions Saga would revolve around the deadly antics of Alexandra St. John, who first made an appearance in Book #7, The Twilight. In many ways, her character begs for a continuation.
Alex was the illegitimate daughter of Scott Page, who was the longtime beloved husband of Shannon Larkin. Alex was abandoned as a child by her biological mother (Andrea St. John), only to be adopted by Angela Page, Scott's oldest daughter. Alex and Shannon have a difficult relationship. Shannon has little use for her late husband's bastard, barely civil to the child even as she grows into an adult. The hostility also creates tension between Shannon and Angela, a friction that endures for years and creates a breakdown of the mother-daughter bond.
In essence, Alex St. John becomes a literal "bad seed." The makings are definitely there for a continuation of the Collective Obsessions Saga. I've been entertaining the idea for several months, jotting down ideas when they strike me. While I haven't committed myself to Book #9 (Limb of Iniquity) in the Collective Obsessions Saga, it is becoming a distinct possibility in the future, perhaps in 2023-24 or thereabouts.
~ The Crypt Artist ~
My publisher actually urged me to eventually write a sequel for The Crypt Artist, telling me in May 2020 (just prior to the release of the book) that she so enjoyed the character portrayal of Malachy O'Leary she would like to see him make an appearance in a future novel as the star attraction:
What can I say about Malachy, except that he's just perfect little leprechaun of a ghost. Love him! I'd love to see him featured in another story. You know you could probably create another story around helping those ghosts work their way out of their purgatory, helping someone else in the Ramsey building or otherwise.
At first, I wasn't sure how to continue with Malachy, mainly because he settled his unfinished business on earth, came to terms with his foibles while in human form, and helped main character Luca Wolfe out of a near-fatal pickle. Yet the more I consider a sequel to the story of Malachy O'Leary, the more ideas that come to me.
The tentative working title for The Crypt Artist sequel is Spirit of the Ossuary.
Stay tuned!

Tags:
Celtic Remnants
; Collective Obsessions; The Crypt Artist;
Writing & Editing
Brit Telly Fix
Posted Sun, 02/14/21
I recently became a convert to BritBox TV, and have to confess I'm thoroughly hooked. If anything were to interrupt my writing schedule, BritBox would be it.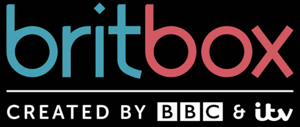 I've been binging on some of my favorite shows As Time Goes By, Ballykissangel, Father Ted, Fawlty Towers, Keeping Up Appearances, Mrs. Brown's Boys, One Foot in the Grave, Rosemary & Thyme, To the Manor Born, Vicar of Dibley, Waiting for God, Wild Bill and Yes, Minister), along with a few new ones (Anna of the Five Towns, Bleak House, Broken, Cranford, From Darkness and Wild Bill, among others).
Best of all, subscribing to BritBox only costs $6.99 per month. I highly recommend it to anyone who is drawn to British comedy, drama and documentaries.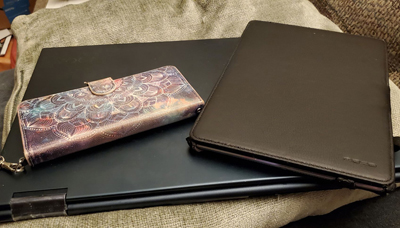 *POSTSCRIPT 02/20/2021: Since becoming firmly addicted to The Crown and BritBox TV (current nighttime binge is Ballykissangel), I've decided to leave all of my "devices" in the next room for the next few days in order to get some writing done. I only ever type books on my PC, which is a safe distance away from the cell, iPad and laptop. Hopefully this tactic will allow me to get something accomplished.
Gothic Literature
Posted Sat, 02/13/21
Having always been a fan of gothic literature, I was delighted to find The Encyclopedia of Gothic Literature by Mary Ellen Snodgrass freely available online, in PDF (Adobe Acrobat) format.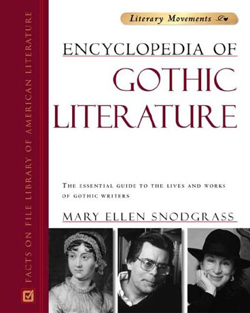 Description of the book from Amazon:
From the origins of the movement in the 18th century to contemporary writers such as Stephen King, this A-to-Z guide to Gothic literature covers a vast array of works and writers from Britain and America, as well as a variety of genres - novels, short stories, poetry, plays, and even a few influential films and works of art.
Although the book is available for viewing online, I've still ordered a print copy from Amazon.
Old habits die hard. ;)

Tags:
Books & Reading
; Writing & Editing
Collins Quotes
Posted Sat, 02/06/21
During my research for an essay about Irish revolutionary Michael Collins, I've come across several of his more famous quotes.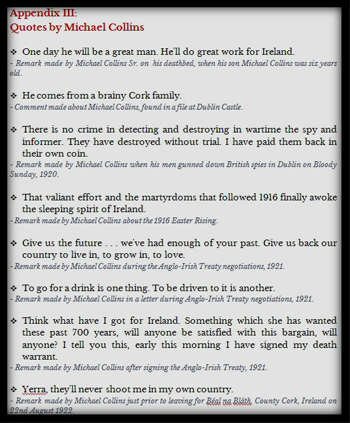 Collins was a vivid and larger-than-life character in Irish history, so I'm thoroughly enjoying the research process of his life and times.

Tags:
Historical Essays
Essays on the Horizon
Posted Fri, 01/29/21
Aside from writing fiction, I also like to pen essays on historical figures that have caught my fancy. Before the year is over, I hope to finish bits about Lizzie Borden and Michael Collins.
I have just as much fun designing the essay book covers as I do researching and writing the content.

Tags:
Historical Essays
;
Writing & Editing
Book Push Surprise
Posted Thu, 01/28/21
This is too funny.
I received promotional/marketing e-mails from Amazon and Barnes & Noble this morning.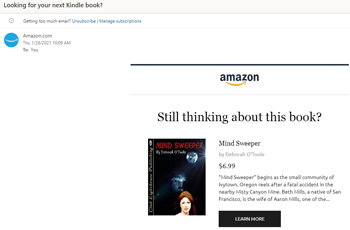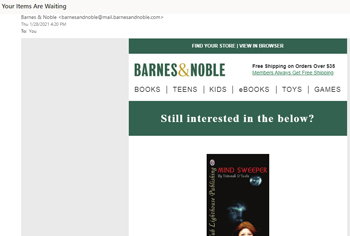 The funny part is I'm receiving promos about my own book!
Tags:
Mind Sweeper
; Book Promotions
Editing "Bloodlust" Part II
Posted Wed, 01/27/21
I recently received the complete manuscript (ms) for Bloodlust from my editor Palvi Sharma, who also included a nice note.
Hi Deborah,

I absolutely loved this story. I felt it was bold, entertaining and very well written. I can see the amount of research you have put in so that the story flows smoothly.

I found myself captivated by all the characters in the book which is actually quite rare with me. Usually, I find myself wanting to read about one character or another and barely pay attention to the secondary characters. But you have done justice to all the characters in your book by giving them significant roles.

Please find my edits and comments in the attached document. I have used track changes again and if you need any assistance with the edits, please let me know.

I did so enjoy the story and I am honored to have been given the chance to edit it. I do hope I get to edit the third part mainly because as a reader I can't wait to find out what happens next.

Take care and warm regards,

Palvi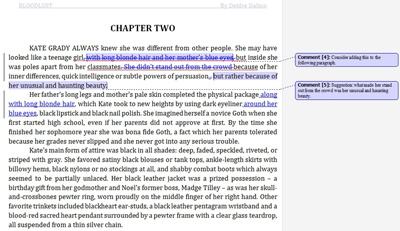 I'm now digging in. Just 433 pages to go! ;)
*POSTSCRIPT (01/31/21): Bloodlust has been finalized. All fixes made between my editor, Palvi Sharma, and myself are now complete. I've never had children, but finishing the final draft of a book is probably the closest I'll ever come to the experience of letting go of a "child" who has reached adulthood and is ready to see the world for itself. FAIR WARNING: Bloodlust is not for the faint-hearted.

Tags:
Bloodline Trilogy
;
Writing & Editing
Piecemeal Scribbles
Posted Sat, 01/23/21
When I sit down to write a story, I usually do so in the actual order of the book: from prologue to the first chapter, and right to the end. I attribute the habit to my "Virgo" obsession with organization. It's a habit that has remained consistent throughout my entire writing career.
Until now.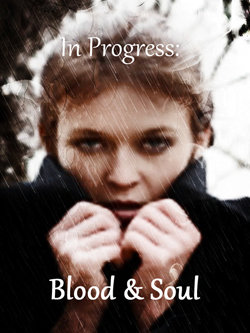 I'm currently working on Blood & Soul, final book in The Bloodline Trilogy. Since beginning in earnest late last year, I've been writing various parts of the story almost completely out of order. One day, it might be the main character Emma Beckett in childhood, and then the next will be scenes in her adult years, and then back again. The story is coming to me in random chunks, which is somewhat disconcerting in my typical writing sphere.
However, the haphazard and unfamiliar method seems to be working for Blood & Soul. I'm not sure what is driving the unusual pattern, but I'm not complaining.
I hope to be complete Blood & Soul in early or late summer 2021.

Tags:
Bloodline Trilogy
;
Writing & Editing