Researching Fiction
Posted Wed, 06/24/20
Odd as it might sound, a lot of research goes into writing certain fiction novels in order to give locations and events precise, non-fictional aspects. At least, that's how it works in my case. As I'm writing, I tend to mix in doses of reality here and there, which can often include genuine people, accurate street names in real cities (sometimes with calculated distances), and bona fide public establishments (local restaurants specifically, historical landmarks or shops).
For example, the two main characters in Bloodlust (Kate Grady and Kirk Lester), travel to Great Britain for an extended stay before returning to their native Boston. To be exact, they reside in Chester, England for a period of time. Since I've never been to Chester, nor do I have the wherewithal to hop on a plane to go and see it for myself, I rely on travel publications, friends who have been to the city, and internet resources, to give me a general feel for the place.
For story purposes, I've been focusing on the area known as The Rows in Chester. The characters live and work there, so I wanted to provide a sense of authenticity to the scenes involved. That's not to say there is a boatload of information about Chester in the storyline, yet there is just enough to give the place definition and to hopefully provide a genuine visual of the location. Little details that seem inconsequential, such as room ambience or style, are actually crafted on purpose, and well in advance.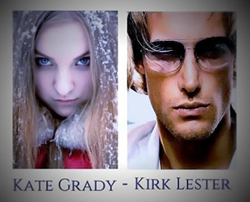 The characters Kate and Kirk reside in a cottage on The Rows, staying with Kirk's great-aunt for a spell. I looked at photographs of cottages and businesses in the area, scrutinizing street maps so when Kate takes a casual walk, it seems as if the reader is actually there. At least, that is my aim when combining fiction writing with existing locations.
It strikes me as somewhat comical to present a fictional story while paying close attention to little doses of reality. If it's pure fiction, why not go all the way with the fantasy? However, I've always written with an eye to the tangible and don't know if I could do it any other way.
Research can often send me veering off course for a few days when I'm in the middle of writing. I recently purchased a UK travel guide, and also did hours of perusal about Chester online. This includes images. I'm always inspired by visuals, which give me the wherewithal to paint a picture in words of a particular setting, event or person.
As Bloodlust progresses, I've decided to assign various parts to the storyline as I go forward. The following is the current layout (which can be subject to change):
Part One: Kate's Epiphany

Part Two: Shoji

Part Three: Calm Before the Storm

Part Four: Monster Trail

Part Five: Reparation
The newly-included various parts are the result of Kate's evolving character, which she discovers as events unfold. In essence, she learns what she is capable of in a paranormal sense, and begins to use it to her advantage. One part of Bloodlust also clears-up some of the mystery surrounding the character Shoji (as evidenced in the same-named section), who was a semi-recurring presence in Bloodfrost, first book in the Bloodline Trilogy. Is Shoji a servant of good (heaven), or evil (hell)? I hope to shed some light on the matter in Bloodlust, without giving too much away. Besides, I've slated Shoji - along with his sidekick Hoshi - to make an appearance in book #3 of the trilogy, Blood & Soul, as well.
It's hard to predict when Bloodlust will be complete. I was originally shooting for late summer, but autumn-into-winter might be more realistic at this point. I'm thoroughly enjoying the process of fleshing out the characters as the story develops in my head. Symbolism is also weaving its way through the storyline, which I'm tracking carefully because it has to overflow into Blood & Soul, third book of the Bloodline Trilogy.
I want the transition to appear as seamless as possible, not always an easy thing to accomplish with a continuing narrative.

Tags:
Bloodline Trilogy; Writing & Editing
Crypt Release
Posted Sun, 06/07/20
The Crypt Artist has been released by Club Lighthouse Publishing, with both the paperback and e-book editions now available from Amazon.
What can I say about The Crypt Artist? The book was a definite labor of love for me, without a doubt. There was something about it that drove me, day after day, until the story was complete. I was enchanted with all of the characters that I developed over time, my two favorites becoming Irish poet Malachy O'Leary and the indomitable Howard Russell Baker. The verbal exchanges between Malachy and Howard had me laughing out loud on several occasions, even in the quiet and solitary world of creation. The fact that Malachy and Howard are both ghosts made their well-aimed barbs all the more deliciously comical.
To learn more about the ghostly characters and their quirks found within The Crypt Artist storyline, visit the book's official website >
After reading The Crypt Artist for the first time earlier this year and during the editing process, my publisher sent me the following message:
I have to say I really loved this one. It's different from your other works and I wouldn't mind seeing more along these lines. Too bad this one couldn't have been set up for a sequel. I really fell in love with just about all of the characters . . . including the ghosts, even the curmudgeonly one, Howard.
I'm indebted to Terrie Lynn Balmer, CEO of Club Lighthouse Publishing, for a variety of reasons - such as her enduring friendship and humor, not to mention our mutual love of cats and animals in general - but also for giving me a chance in the first place. Nearly a decade ago, Terrie took on the eight novels that comprise the Collective Obsessions Saga (written by me as Deidre Dalton), and for that I will always be grateful.
I'm also very pleased with the front and back cover designs for The Crypt Artist. Many thanks to James Wason for his talent, and for his patience in working with me to finalize the creations.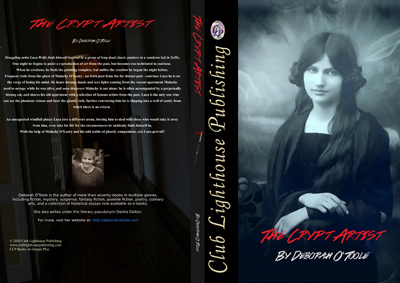 There are three other people I would like to thank, for without them The Crypt Artist would not be what it is today.

For giving me the initial idea for The Crypt Artist. Some of his ideas brought forth my inspiration for the storyline. While I did all of the writing, he also deserves credit for gifting me with initial brainwaves in the first place.

Brendan Gallagher:

Brendan gave me several quirks for the character Malachy O'Leary (including the drunken lamppost scene). Malachy was based on a real man, the late Mick Egan from Birr, County Offaly, Ireland. Brendan's humorous "ideas" came from incidents he witnessed involving Mick Egan in his hometown of Birr, making them all the more hilariously funny. His re-telling of them put me in stitches.

Jerry Dalton:

And last, but not least, thanks to Jerry for guessing female cat ghosts are subtly more vicious than their male counterparts, and for giving me the idea for Malachy O'Leary's pet feline, Hissy, who happens to be real and very much alive. ;) Jerry also deserves credit for being patient with me during the writing process, as he had to live with me day in and day out, and to see firsthand the joys and frustrations of being an author.

I'm also very fortunate that most of the people around me are patient, understanding the writing process and giving me indulgences to do so at my own obsessive pace and style.

You know who you are, and thank you.

Tags:
The Crypt Artist
Living with an Author
Posted Thu, 06/04/20
Being a writer has its ups and downs. Whether you're an amateur or a published author, the process of writing a book can be excruciating, peppered with bits of relief and elation. There are times it all feels like an emotional rollercoaster. Those who are near and dear to us can also feel the impact of the long process on a daily basis, which can also often prove the mettle of their character.
I've been writing for many years, long before I was even out of my teens. Throughout my life, every relationship and marriage has suffered accordingly. Be that as it may, I've never been able to relinquish my love of writing, no matter how much anger or resentment it may cause in those around me. To stop writing to please someone else is unthinkable to me, and in the end, proves to me the person involved could care less about my happiness and is only concerned with their own.
Granted, writing is not like a nine-to-five job where work stops at the end of the day. Writing goes on at all hours and on all days, sometimes for months on end without respite. Then again, there are those times the creative juices stop for a stretch, leaving an author with a sense of loss and frustration. In other words, writing is a never-ending process of imagination, creation, joy and despair, research, rewriting and editing, all with no set time frame. And when one project is complete, at least in my case, it's often right into the next one.
Seven years ago, my blog post Peripherals enumerated the life of an author, and it still rings true today.
As a writer, one thing you will likely discover in quick fashion is the lack of moral support from various people around you. Positive reinforcement is almost a non-entity, even from those closest to you.

A writer's friends or family typically fall into two categories: dismissive or encouraging. Unfortunately, more than one of my former husbands fell into the first peripheral category. Instead of being swayed by naysayers, I tend to dig-in deeper. One has to cut away the negative people and situations in order to keep on. To that end, I've frequently become the "dismisser" rather than the one being dismissed.

Writing is a very solitary business, so it's a good idea to realize it early on and learn to cope with all that it entails.
I'm very lucky now, at this stage of my life. My significant other gives me room to write and rarely complains. He does not protest when I take along my spiral notebooks so I can write when the mood strikes during our camping trips. He knows full well when I'm in writing mode and my mind wanders, and he remains patient, sometimes teasing me about it. "When you get that look in your eye, I know better than to start a lucid conversation with you." He even offers suggestions that have frequently found their way into my books.
One of my tendencies is to take care of mundane things (laundry, cooking, dishes, and other domestic chores) early in the day, if I can. I realize life happens and interruptions are inevitable. There is no way around it sometimes. That being said, the one thing that powers me through the slog is the knowledge that once I'm finished, I can settle back into writing again.
I never lose sight of what drives me in the first place.

Tags:
Writing & Editing
Final Crypt Edit
Posted Mon, 05/18/20
I received the manuscript of suggested edits for The Crypt Artist from my publisher nearly two weeks ago. It was the final edit for the book, which usually occurs just prior to publication, and is now complete.
I'm nervous, but happy at the same time.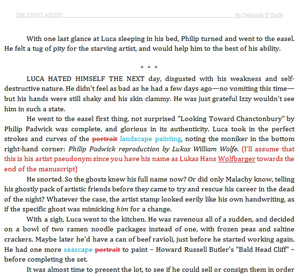 In addition, I've been messing about with a back cover for the book. The long hallway with a door at the end will make sense once you read the book. The big blank space near the bottom of the back cover is for my publisher to add their information, and the bar code.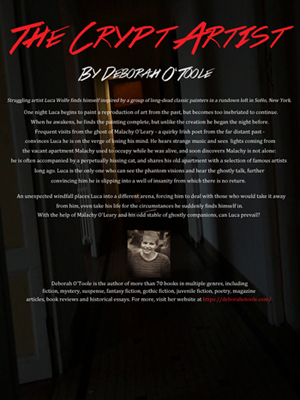 A PDF document giving over more details about the ghosts in The Crypt Artist is also now available.
As I wait with bated breath . . .

Tags:
The Crypt Artist; Writing & Editing
Box of Glinhaven
Posted Thu, 04/30/20
I received a UPS package from my publisher today, which included several copies of Glinhaven in paperback.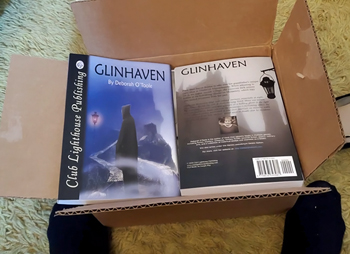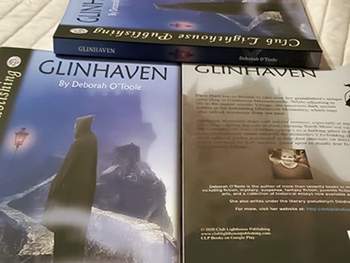 Much appreciation goes to T.L. Davison and James Wason at Club Lighthouse Publishing, both of whom contributed to the amazingly gorgeous front and back covers, not to mention the spine.
I'm thrilled beyond words.

Tags: Glinhaven
Book Collecting
Posted Tue, 04/28/20
One of my lifelong enjoyable habits is the collection of print books, especially those belonging to a particular author or series.
I have nearly every single Stephen King novel available to mankind, along with most all titles by Evelyn Anthony, Maeve Binchy, Barbara Taylor Bradford, Elizabeth Byrd, James Clavell, Cleo Coyle, Dorothy Daniels, Diane Mott Davidson, Charles Dickens, Stephen R. Donaldson, Miranda James, Rosamond du Jardin, Ken Follett, Marilyn Harris, Susan Kay, Mary Pat Kelly, Norah Lofts, George R.R. Martin, Colleen McCullough, Stephenie Meyer, Carol J. Perry, Edgar Allan Poe, Rosemary Rogers, Barbara Ross, Marilyn Ross, J.K. Rowling, Edward Rutherfurd, Bertrice Small, J.R.R. Tolkien, Leon Uris, Alison Weir, Oscar Wilde and Kathleen Woodiwiss, among many others.
My recent quest is to obtain all titles in the Dark Shadows series of gothic novel by Marilyn Ross (aka Dan Curtis) and Nancy Drew by Carolyn Keene. I used to have all the books, but because of my many moves over the years, I lost many of them. And so I begin again.
I've found one of the best resources for acquiring older novels (some of which are out-of-print) is Abe Books/Applewood Books for the Nancy Drew series, and Hermes Press for their current and ongoing re-printing of all thirty-two Dark Shadows books.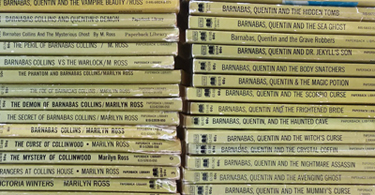 Above: Array of Dark Shadows titles re-printed by Hermes Press. Image copyright: Collinsport Historical Society. Click on image to view larger size in a new window
.
The reincarnation of old book covers from the Nancy Drew novels fascinates me. Keep in mind the first book in the series was published in 1930. The covers reflect the time period in which they were written, including the style of clothing worn by Nancy herself and the blue roadster she drove.

Above: Array of Nancy Drew titles re-printed by Applewood Press. Image copyright: Worthpoint. Click on image to view larger size in a new window.
I'm having a blast receiving the books, and it's time well-spent as the current lockdown at home continues. It's also a pleasure re-reading some of the novels to fill the day, which I alternate with writing for Bloodlust.
It's pure bliss.

Tags:
Books & Reading
Spring Newsletter
Posted Wed, 04/15/20
Being a writer is isolating in itself, for the most part. However, the recent COVID-19 virus scare has made the isolation seem all too genuine, removing the self-imposed structure of my days in real time. Whether I want it or not, it is a simple fact of life for now. While I'm accustomed to solitude because of writing, having it enforced is a different kettle of fish. There is no avenue of escape, no sudden decision to head out the door on a whim.
Thus begins my spring newsletter, which is now available online, and also as a PDF download.
Here are some highlights from the newsletter: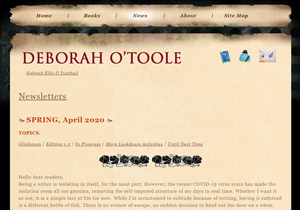 ~ Glinhaven ~
Glinhaven was released by Club Lighthouse Publishing on April 8, 2020. The novel is available in multiple e-book formats from Club Lighthouse, and in both Kindle and paperback editions from Amazon.
I'm thrilled with the release of Glinhaven for a few reasons. First, I love the storyline and the characters within. Second, I'm inexorably drawn to the book cover. It is haunting and unique, much as the story itself is. And last, but not least, I'm happy with the writing style of the novel. As I've said many times before, Glinhaven is my ode to the gothic fiction genre.
Hopefully, I was able to do it justice. More >
During the lengthy lockdown, I've managed to keep myself busy cooking, reading, writing, playing games, doing needlepoint and watching episodes of the old Dark Shadows television series on Tubi from my iPad. It helps pass the time during frequent lulls, and when the daily grind becomes akin to sheer boredom.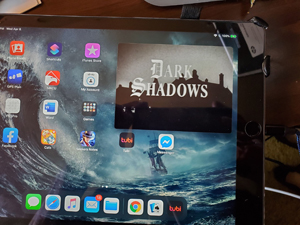 In my younger days I used to needlepoint with regularity, but not so much in recent years. I was never much of a "crafty" person and wasn't really talented in that area, yet I enjoyed the process. It felt soothing after a long day. However, I picked up the habit again a few months ago and now have four different projects in the works.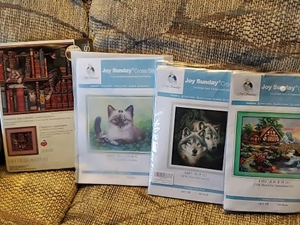 As for reading, over the space of the last few weeks I read through all of my books in print (Bloodfrost, Celtic Remnants and all eight novels in the Collective Obsessions Saga). It was quite entertaining, and I enjoyed every minute of it. I also began re-reading the Dark Shadows novels by Marilyn Ross (aka Dan Curtis), which were originally published between 1966 and 1972. All thirty-two books in the series are being re-issued by Hermes Press, so I have started to collect and read them again. I'm also toying with acquiring the many titles in the Nancy Drew series by Carolyn Keene, but have made no moves in that direction as of yet. I loved the books as a teen and twenty-something. Despite their simplicity and wholesomeness, the books are cleverly well-written and enjoyable to read.
And just recently, Jerry and I spent a Saturday in Delle, Utah, where we rode the ATVs for a few hours. It was a breath of fresh air to get out of the house and to roam open spaces. We came across groups of black cows who were grazing peacefully, but eyeing us with wariness. The baby calves running about were a delight to watch, taking off like shots when we drove by. It was a much-needed respite from the abnormal ordinary awaiting us back home. More >
~ Until Next Time ~
Another newsletter will be coming your way in late autumn/early winter 2020, so keep your eyes peeled.
And until next time, happy reading . . . More >

Tags: Glinhaven