Tracking Characters
Posted Sat, 01/09/21
People often ask me how I keep track of storylines and characters in different books as I'm writing them. To me, it's easy. If an author has created a story purely from their imagination, it's rather simple to keep track of the characters. They become like bona fide family members, so I have no trouble in remembering them or their purpose in the story. Jumping from one novel to another has always been somewhat easy for me because of this. The characters are family, in a way, and not easy to forget where they belong.
However, I keep a spreadsheet for each book in order to reference individual character quirks and their relationship to others.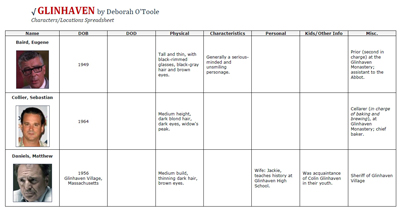 (Above): Sample of the spreadsheet for
Glinhaven
. Click to view larger image
.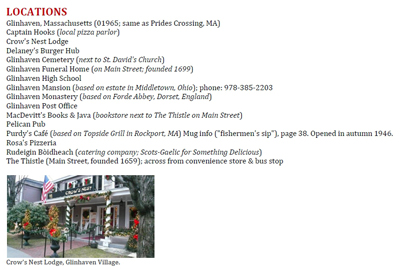 (Above): Sample of the spreadsheet for Glinhaven. Click to view larger image
.
The spreadsheets are compiled in table format, which includes all of the central and non-incidental characters and locations in a fiction story. They centralize information pertinent to the story so I don't have to keep paging back to remember eye color and other bits about characters as I write.
The spreadsheets are a lot of work to assemble, but save time in the long run.

Tags:
Writing & Editing
"Mind Sweeper" Released
Posted Thu, 01/07/21
Mind Sweeper was released by Club Lighthouse Publishing today. The novel is available in multiple e-book formats from Club Lighthouse, and in Kindle format from Amazon.
Newly-widowed Beth Mills accepts an outpouring of sympathy from her community after a freak mining accident takes the life of her husband, Aaron. Unbeknownst to anyone, she is secretly delighted that her cruel husband is lost to her, but never expects his vicious ghost to return and haunt her in more ways than one.
The paperback edition of Mind Sweeper will follow in a few weeks. :)
Tags:
Mind Sweeper
New Year Mishmash
Posted Sun, 01/03/21
Happy Holidays
Posted Thu, 12/24/20
Future Books
Posted Sun, 11/29/20
Soul & Shadow
Posted Sat, 11/21/20
Mind Sweeper Peek
Posted Sun, 11/15/20
Author Spotlight
Posted Sat, 11/14/20
Thanks to Scott and Book Lemur for the recent Author Spotlight!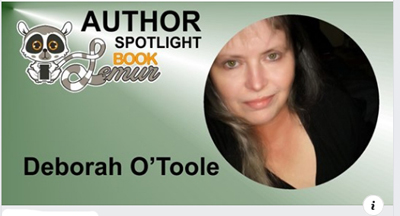 Book Lemur features hundreds of author bios and related book links. I'm very happy to join all of them.
Tags: Book Promotions