Feline Lull of Love
Posted Sun, 09/26/21
I recently had about a two-week lull in creativity, but now I'm back at it. I hope to finish Blood & Soul before the snow flies.
Part of the "break" included making a stray cat part of our family. Around September 7th, a small kitty wandered into our yard. That in itself is not unusual as we keep a feeder out to accommodate several strays who usually come by every night, but there was something different about the small kitty. He meowed at us repeatedly, as if in desperation. It felt as if he had chosen us, and now he's here to stay. His name is Dusty, but I've already nicknamed him "me little boyo."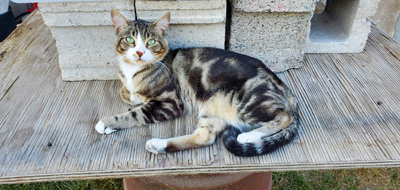 (Above): Meet Dusty O'Toole Dalton, our new baby boy. Click on image to view larger size in a new window.
We went through all of the local lost/found pets sites with no results, and he also scanned negative for a chip.
Jerry took Dusty to the veterinarian for a thorough check-up. The doctor estimated him to be about 6-7 months old, and he weighs a little over 7 pounds. He also had his vaccinations, a de-worming treatment (just in case), and blood tests came back negative for all feline diseases. He's a healthy little terror. Dusty is scheduled to get fixed and chipped on October 14th.
Hissy hates him, naturally. She is none-too-pleased about the goings-on with Dusty and makes her displeasure known quite frequently.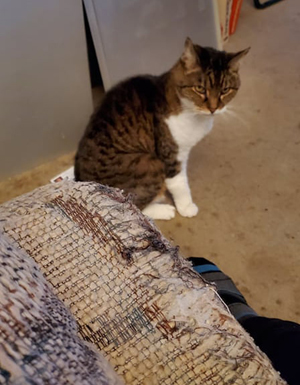 (Above): Hissy showing her displeasure at the recent turn of events. Click on image to view larger size in a new window
.
Hissy and Dusty engage in regular battles at the sliding glass door (with Hissy inside and Dusty outside). The hissing, growling and caterwauling can be intense. We intend to bring Dusty inside when the weather turns colder (in the basement), but in the meantime he has a heated bed with food, water and litter box in the garage. He loves dry food and Vienna sausage, but turns his head away when offered tuna or other moist cat food.
We keep Dusty locked in the garage at night because we saw footage from the security camera where he chased several of them off in the wee hours, most of whom are twice his size.
Our "little" family now includes two beautiful cats, and about fifty duckies.


Summer Be Gone
Posted Sat, 08/14/21
I had hoped to be finished with Blood & Soul by the end of August, but it's not going to happen. The initial completion date (prior to editing) is more likely to occur sometime in October. The long, overly hot and fire smoke-filled summer has been especially arduous, leaving me with little energy to devote to the routine of daily life, let alone consistent writing. I know autumn will give me the energetic push I've been craving. Cool, rainy weather always puts me in a better creative frame of mind.
Never fear, however. The book is 3/4 finished, and I'm determined to see it through. I know exactly where I'm taking the storyline to wrap-up the Bloodline Trilogy, it's merely a matter of time in which to write it. Most of the story is already handwritten in one of my many spiral notebooks, and just needs to be typed and placed in order as I envision it.
I've also been dabbling back and forth with In the Shadow of the King this month, as the mood strikes me. It will be my next focused project after
Blood & Soul
is put to bed. My semi-fictional tale about Sir Francis Bryan and his relationship with Henry VIII has been long in the making, so I'm anxious to see it come to fruition as well.

And what will follow Blood & Soul and In the Shadow of the King? SEQUELS! Limb of Iniquity (book #9 in the Collective Obsessions Saga), Celtic Fragments (long-awaited sequel to Celtic Remnants), and Spirit of the Ossuary (sequel to The Crypt Artist).
Stay tuned!

Tags: Bloodline Trilogy; In the Shadow of the King; Writing & Editing
Ode to Dorothy Daniels
Posted Sat, 06/26/21
It's no secret that I'm a huge fan of author Dorothy Daniels. Her books have been one of the handful of constants in my life, her subtle skill somehow excelling in spite of the simplicity found in many of her stories. As I re-collect all of her novels for my permanent bookshelf, reflecting on her history as a whole has also become an enjoyable pursuit.
From BGSU/University Libraries:
Dorothy Smith Daniels was born in Connecticut on July 1, 1915. She earned a diploma from Central Connecticut State College in New Britain, Connecticut. She married Norman A. Daniels, a writer, on October 7, 1937, and presumably died on December 3, 2001. Daniels began her writing career in the early fifties while living in New York City by writing short stories. She became ill, discontinued writing, and moved to California in 1956. In 1961 she resumed her career with hard cover doctor-nurse stories. Paperback Library became interested in her books and purchased them. They sold so well that they contacted Daniels to do original doctor-nurse paperbacks. Paperback Library then suggested that she try her hand at Gothic novels. Her husband, who had been writing detective and suspense stories for years, offered to guide her in the media. She switched to Gothic fiction and wrote exclusively in that genre from that point on, with over one hundred forty novels in print. She also wrote under the pseudonyms: Danielle Dorsett, Angela Gray, Cynthia Kavanaugh, Suzanne Somers, Helen Gray Weston, Helaine Ross, and Geraldine Thayer.
The image below is one of the few authenticated picture of Dorothy Daniels I've been able to find (located on the back cover of Cliffside Castle). This diminutive-looking lady was an amazingly prolific writer, something I can only hope to aspire to. She churned out more than 142 novels between 1965-1985.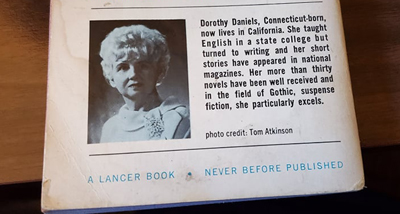 I owe an enormous literary debt to Mrs. Daniels as she was a staple read of my late teen years into my 20s. She helped shape my own writing style over the years, especially an attention to detail that has followed me during my entire career to date. Her influence on me has been everlasting, and priceless.
Click here for a complete list of Dorothy Daniels titles (430 KB, PDF).

Tags: Books & Reading
Writing in the Uintas
Posted Sun, 06/13/21
We're planning our first camping trip of the year, which will take place next week for several days at Wolf Creek in the Uinta Mountains. We visited the same spot last July (see Camp Writing). It has to be one the most beautiful places on earth.
It's not just the fresh air, or the peace and tranquility the trip will offer us, but it also gives me a chance to write without the distraction of computers, cell phones and/or other technological devices. I usually pick a day during the stay to write exclusively. I do it by long-hand in a spiral notebook, a lifetime habit that has always worked well for me.
It was during a camping trip in 2019 that I finished The Crypt Artist. That time we were once again in the Uinta Mountains.
I'm determined to finish Blood & Soul before Labor Day in September rolls around, although there are moments when I'm unsure if I'll meet my goal. Writing the third part of a trilogy, where I need to tie-up loose ends in the storyline, is proving to be a challenge. My spreadsheet of characters, locales and other little details is helping, of course, as is the outline I wrote for the story. I carry all these things with me when we go camping, much to Jerry's chagrin.
I also read quite a bit. I've recently been on a Dorothy Daniels binge as I re-collect most of her gothic fiction novels.
And, just as importantly, we'll take time for leisure, such as riding ATVs during the day, along with barbequing meals and playing games at night. I recently purchased the game Ireland-Opoly from St. Patrick's Guild, which is similar in style to the American version known as Monopoly.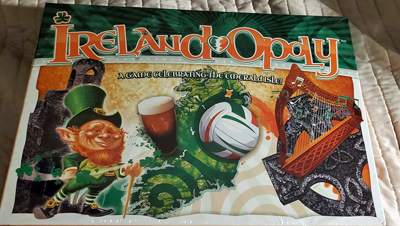 There is no better way to spend five glorious days away from city life and the typical daily drudge.

Revisiting Favorites
Posted Sat, 05/22/21
Every five years or so, I re-read favorite novels with relish. It might seem silly since I've read them before and already know the outcomes, but revisiting certain books always gives me great pleasure. The top three titles have not changed in many years.
Comments about the books come from my reviews of the specific novels.
1. Trinity by Leon Uris:
Trinity by Leon Uris is the great novel about Ireland. If you had no passionate feelings about the Irish culture and their struggles before, you certainly will after reading this book. There are some parts of the book - taken straight from a page in history - that will outrage a person of Irish descent (the "Penal Laws" being one example). Leon Uris brings to life this terrible struggle within the Irish people, not only for independence from the British but from their own inner struggles about right and wrong, and their own morality.

Terrorism is a deadly and hellish business in any situation. The "war" in Northern Ireland was not only about terrorism – it was about the right of people to worship as they please, and to decide and govern their own laws. Any act of violence is reprehensible and beyond the pale. However, it is a fact of life in this day and age and in the many centuries before the modern turmoil.

Trinity is a fictional story only in the sense of the main characters, but the struggle and the sadness and the terrors are all too-real. The history in this story is dramatized in many powerful scenes, and at times Uris' writing is strongly eloquent. The book has a relentless power and drive (almost on its own, it seems at times), and is based on real tragedy in Ireland. Mr. Uris has neither diminished nor made trivial this despairing heartbreak.
2. Bledding Sorrow by Marilyn Harris:
Bledding Sorrow by Marilyn Harris is one of those books you simply cannot put down once you start reading it. The book is intriguing, yes, and very dramatic, but is also twisted in such a fashion that only English writers seem able to achieve. Obsessive fetishes and mental preoccupations are very normal in Bledding Sorrow, as are the oddly humorous scenes and deadly serious episodes. It is an utterly fascinating read, yet at the same time strangely repulsive.

If you have read other books by Marilyn Harris, then you will most likely understand her style. There is an eloquent human element in her prose, as well as an appreciation for the sadomasochist existing in all of us to some degree or another. If you take the time to read Bledding Sorrow, you will find the adventure quite worthwhile and oddly satisfying.

The cast of characters in this book is truly amazing, some of them are quite funny. My favorite has to be Mavis Bonebrake, who is the "cook" of the facility. Mavis is one of the most gross and disgusting characters you will ever come across, not only for her complete crudity but for her ghastly appearance in the story. She is physically repugnant. Her favorite pastime is regaling fellow workers and tourists alike of her active sexual life during her London winters. Mavis seems to love the shocked reactions she gets from people.

Martin Axtell is the local doctor in Bledding Village, and a closet homosexual. His dearest longing in life is to live in blissful harmony with Geoffrey Bledding at the estate, with the two of them as lovers, of course. Martin Axtell regularly pays visits to Ann Bledding, usually after Geoffrey has beaten her when she rejects him sexually. The good doctor keeps all of the abuse secret, naturally, as he truly wants Geoffrey for himself.

Bledding Sorrow remains one of my all-time favorite books. The first time I read it in the mid-1970's, I thought it would make a great movie. As the years passed and I reread the book several times, my perception of it changed. I became more aware and understanding of certain writing elements. It struck me that Bledding Sorrow is true brilliance at its best. It is riveting, sadly tragic, very "English" and certainly laugh-out-loud comical at several points in the story.
3. Mary Queen of Scots: Immortal Queen by Elizabeth Byrd:
The story of Mary, Queen of Scots is not new by any means and is certainly not original anymore. How many times can you tell the same story? I've read dozens of books about Mary, but the version of her life written by Elizabeth Byrd is by far the most outstanding work.

Elizabeth Byrd writes with a flair for the dramatic, while at the same time keeping true to the historical facts of Mary's life. Ms. Byrd paints Mary as a real woman, with real feelings and desires. This is not a romance novel, although it may seem so when Mary falls in love with Lord Bothwell. The book is written in dramatic sense that is easy to understand, even if you don't know anything about Scottish history. The dialog is descriptive, as are the customs of the day.

This book is one of the best-written I've ever read. I rank Immortal Queen with some of my favorites: "Bledding Sorrow" by Marilyn Harris, "Trinity" by Leon Uris, "The Thornbirds" by Colleen McCullough, "Shogun" by James Clavell and "A Woman of Substance" by Barbara Taylor Bradford. In fact, if you liked "A Woman of Substance," you will love Immortal Queen. The two books are basically about the same thing: in essence, powerful women pitted against men in a world where women were meant to stay home and have babies. The pressures and difficulties women experienced were real and daunting. Mary's plight was almost insurmountably complex in the world of 16th century Scotland and England. Religion was an issue as well, but Mary remained firm to her Catholic faith and never wavered.

Mary had quite a life and it is almost impossible to tell the story in one breath. Ms. Byrd writes Immortal Queen with accurate historical fact, but the lively dialog and circumstances are played out in such a mesmerizing fashion that one can't help but like Mary, Queen of Scots. She was human, after all, with all of the typical frailties and insecurities. Even if you know next to nothing about Mary's time and place in history, you will quickly become fascinated by it once you read Elizabeth Byrd's outstanding account.
Happy reading! :)

Tags: Books & Reading
Grammar Goodies
Posted Sat, 04/24/21
Even after all the years I've been writing, there is still one word that gives me pause to double-check. It's like a mental block with me, but maybe this little guide will help: Grammar Girl's 101 Misused Words You'll Never Confuse Again.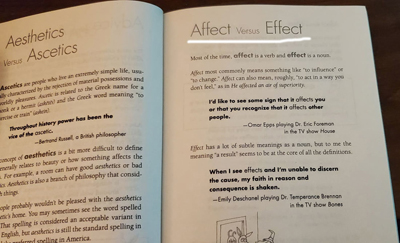 "Further" versus "Farther" can also be ambiguous words that seem to have the same meaning, but in fact do not. Many years ago, I found the easiest way to remember which defines what was "Further" (as in addition to, i.e. "furthermore") and "Farther" (as in distance).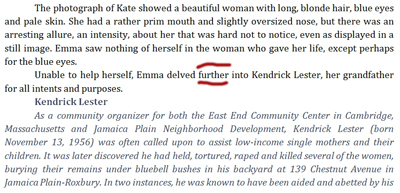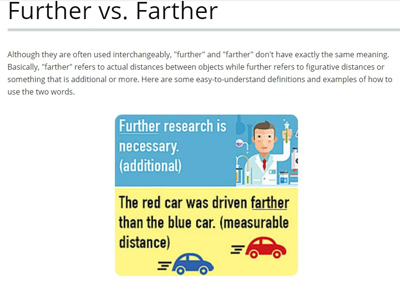 Note: Above book sample taken from the ongoing and upcoming Blood & Soul by yours truly writing as Deidre Dalton, while the illustration came from Your Dictionary.

Tags: Writing & Editing
Art of Cursive
Posted Sat, 04/03/21
Back in 2010, many schools decided to rule out the instruction of cursive handwriting. According to the New York Times: "The Common Core standards seemed to spell the end of the writing style in 2010 when they dropped requirements that the skill be taught in public elementary schools, but about two dozen states have reintroduced the practice since then." Re: Cursive Seemed to Go the Way of Quills and Parchment. Now It's Coming Back.
I handwrite nearly every book before sitting down to type. I usually do it in stages, writing about forty pages and then typing the content (and so on and so forth until the book is completely written). In turn, the typing typically leads to more detailed scenes and dialog as I go along. It's a method that has always worked well for me, so I rarely deviate from it.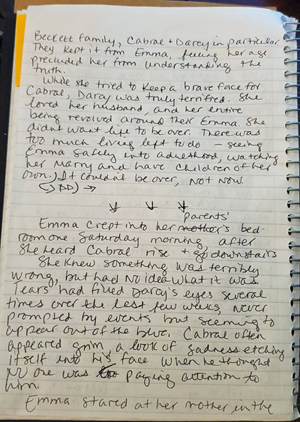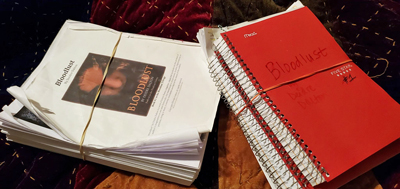 I cannot even imagine not having the ability to write by hand. In the not so distant future, the art might become obsolete (apart from people using it to sign their names). It's a shame, really. Not only is handwriting a personal expression of the individual (a unique fingerprint, if you will), it teaches one to pay attention to detail and, in some ways, it disciplines the mind. I also believe handwriting skills lead to an inquisitive approach to reading and, more importantly, a clear understanding of the content of what one is reading.
According to The Conversation: "Beyond a nostalgia for the pre-digital age, there are good reasons why cursive handwriting needs to make a comeback. Developing fluency in printing and handwriting so that it comes automatically matters for literacy outcomes. Handwriting is also an elegant testimony to the human capacity for written literacy and an inspiring symbol of the unique power of the human voice."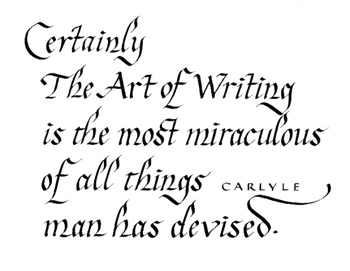 One of my dear friends has perfected her calligraphy skills into a fine art, which enabled her to open her own business (Strokes of Love). While handwriting and calligraphy are related, they are certainly not the same thing. In fact, calligraphy is officially termed as a "visual art form." And it's true. People have made careers from calligraphy (such as my friend), their skill sets desirable for elegant invitations, documents, banners, logos, plaques, signs, clothing, accessories, and much more.
Some writing individuality has been lost due to technology, of course. It's only natural as society advances into the future. However, I'm hoping the art of cursive by hand will remain an educational fixture for a long time to come.

Tags: Writing & Editing