What's on the Tube...
> My favorite TV shows, in order of preference:
> News/politics:
I don't really "watch" the following programs, but rather listen to them as I work on my computer.
> Cooking, game, reality & talk shows:
> Re-runs:
Mini-Series Favorites:
Over the years I have also developed several TV mini-series attachments, including Shogun, The Thornbirds, The Long Hot Summer (Don Johnson version); Manions of America, The Stand, The Tudors, Kingdom Hospital and Nightmares & Dreamscapes.
Being a longtime Stephen King fan, I found Kingdom Hospital delightful. Odd, but I have never found King's books or the film versions thereof to be scary, and I actually adore his twisted sense of humor that seems to inevitably appear in all renderings of his work.
Oldies Never Die - They Just Go To Re-Run Heaven:
I never get bored with MASH. I must have seen every episode dozens of times but I still find the entire show amusing.
Although fairly new to re-run heaven, I also enjoy Rescue Me.
From childhood comes Bewitched, Columbo, Perry Mason and Quincy. I don't mind watching the reruns now and then. Some of the shows seem silly today (corny in most cases), but they are good for a laugh and many of them bring back fond memories in time. Another enjoyable program is Matlock. Andy Griffith is as cute and charming as the dickens (may he rest in peace).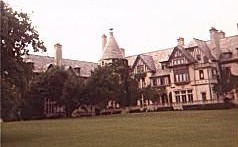 Dark Shadows was my ultimate favorite as a child. I skipped catechism when the original series aired, and my absenteeism so concerned our priest he came to our house to see if I was ill. My mother didn't have the heart to tell him I was missing my religious instruction because I was busy watching vampires and werewolves haunt and blend in with the Collins family of Collinsport, Maine at their dark and dreary mansion dubbed Collinwood. It was the image of that old mansion that gave me the inspiration to construct a similar family estate for the characters in the Collective Obsessions Saga.
And last but not least, I love British and Irish TV series and sitcoms. A few of my favorites include Ballykissangel, As Time Goes By, To The Manor Born, Keeping Up Appearances, After You've Gone, Waiting for God, Yes, Minister and One Foot in the Grave.
Then there are days - favorites notwithstanding - that I don't even turn on the television. But there is something comforting about old favorites, and being able to crawl into bed at night and aimlessly flip through the various television channels. Snug as a bug in a rug - with a remote.