About Irish Eyes
"Irish Eyes" is a web log much ado about writing and all else unrelated by author Deborah O'Toole.
She is author of Celtic Remnants, a novel of enduring yet impossible love and betrayal set amongst the turbulence of Ireland, glamour of London and the wilds of Scotland.

She is also author of Glinhaven, Mind Sweeper and The Crypt Artist, along with the upcoming novel In the Shadow of the King.
* * * * * *
Writing as Deidre Dalton:
Deborah writes using the pseudonym Deidre Dalton. She is author of the Collective Obsessions Saga, which chronicles the extraordinary loves and obsessions between two families sweeping a span of more than one hundred years, all set against the backdrop of a Gothic seaside mansion in Maine.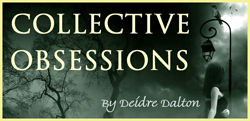 The eight-part family saga includes The Advent, Quixotic Crossings, The Twain Shall Meet, Enthrallment, The Keeper's Journal, Hearts Desires, The Twilight and Megan's Legacy All books were released by Club Lighthouse Publishing. A ninth book in the saga, Limb of Iniquity, is tentatively scheduled for release in 2023-24.
Other Deidre Dalton titles include Bloodfrost, Bloodlust and Blood & Soul. The books are part of The Bloodline Trilogy, which follows the uniquely magical yet ominous journey of three women through time.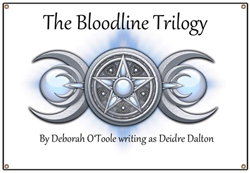 * * * * * *
More Writing:
Deborah has written several articles and historical essays for the online version of Ambermont Magazine, and the cooking/recipe website Food Fare. Links to the articles and essays can be found on the Historical Essays and Articles & Other Writings pages of her website.

She also writes Juvenile Fiction (Short Tales Collection) and darkly abstract Poetry (Torn Bits & Pieces).
* * * * * *
Background & Influences: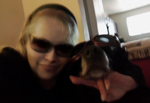 Deborah was born in Greenwich, Connecticut. She has also lived in San Francisco, Reno, Salt Lake City and Spokane, among other US cities. She currently resides in the mountain west.
A lifelong Tudor and Irish history buff, Deborah likes to browse through the local paperback exchange in her free time. She also enjoys web and book cover design, needlepoint, growing her own herbs and experimenting in the kitchen on whim.
Between bouts of writing, she likes to relax by playing computer games. Favorites include variations of solitaire (Precedence, Pyramid and Russian Solitaire), time-management (Cooking Dash & Diner Dash) and hidden object games (Mystery Case Files).
Deborah's favorite authors include Evelyn Anthony, Elizabeth Byrd, James Clavell, Dorothy Daniels, Diane Mott Davidson, Ken Follett, Marilyn Harris, Susan Kay, Stephen King, Norah Lofts, Mary M. Luke, Colleen McCullough, Marilyn Ross, Edward Rutherfurd, Anya Seton, Bertrice Small, Barbara Taylor Bradford, Leon Uris, Alison Weir and Kathleen Woodiwiss.