Dusty O'Toole-Dalton
Dusty "Boyo" O'Toole-Dalton entered our lives in September 2021. He was a stray, but quickly allowed us to get close. The veterinarian estimated he was about nine months old at the time, so I gave him a birthday on March 17, 2021. St. Patrick's Day, indeed.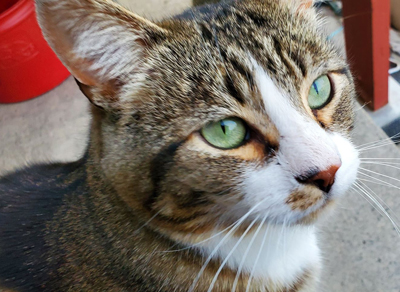 After being chipped and fixed, Dusty settled in nicely, although he and Hissy were at odds and remain so to this day.
He now has an in-out door personalized to his chip, which typically goes into "curfew" mode around 7pm at night in summer, 6pm in summer. He can come and go as he pleases otherwise, and does. The door gives him access to the family room in the basement, where he also has a fancy three-tiered tower of his own.
Dusty does not like rain and strong breezes, often making use of the cat door leading into the garage and Kiki's old tower. I've nicknamed him "Boyo" and "tenderfoot" (only because of his fear of certain weather elements). He also doesn't like regular moist cat food, but happily makes do with chopped Vienna sausage for dinner every night (the barbeque flavor is his favorite).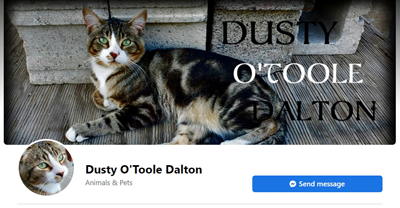 Dusty now has his own Facebook page. Give him a visit!