Rainee Gabriella O'Toole (2004-2019)
Rainee Gabriella Alviso O'Toole was my oldest "daughter." She shared a birthday with Kiki (March 31), although they were obviously born in different years (Rainee in 2004, and Kiki in 2006).

Rainee passed away on 16th February 2019. She developed a tumor which was inoperable, so I was tried to make her last days and weeks as comfortable as possible. I was with her right until the end, saying her name and telling her I loved her until the moment she drew her last breath. It was as emotionally wrenching to me as losing both my parents. I had never been able to stay in the same room when both Foofer and Kiki drew their last breaths, but I steeled myself to be there for Rainee. I couldn't bear to leave her alone. Love and thanks to Jerry for being there with me, and also much thanks to Nancy and Brendan for their private words of support.
About Rainee
I found Rainee through the Spokane Humane Society, via PetFinder. I wanted to get a companion for my older dog, Foofer. One day in the spring of 2004, I happened to be browsing for puppies in my area when I caught sight of Rainee's picture. Her personality description read:
Rainee is a very adventurous girl and opinionated. She has a mind of her own. She loves to be held, but on her own terms. Rainee enjoys playing outdoors with her siblings. Tug-o-war and chasing the ball are a couple of her favorite activities.
I filled out the required adoption papers for her, and within a week I was holding little Rainee in my arms. Her first action was to urinate all over me, so I knew then and there she was coming home with me.
Rainee's nicknames: Ray-Ray, Lil' Ray, Rainer, Missy, Sweety-Pea, Twinkle Toes, Raindrop, Sidewinder, Tweeter, Her Royal Nibs and Girlie-Q.
Rainee's PetFinder description proved to be accurate. She had a stubborn streak a mile long. Nothing seemed to daunt her, apart from the sound of wailing sirens and steep staircases.
Rainee has her own website called Rainee's Parade. The pages include a biography in words and pictures, and a selection of related links hand-picked by Rainee herself.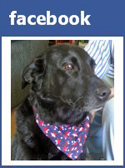 And don't forget to pay a visit to Rainee's Parade.