Solitaire & Other Gamely Pastimes
I'm a computer-solitaire fanatic. I didn't learn how to play the game until ten years ago, but I've been hooked ever since. Though I prefer the computer variety, I still like to play solitaire with a normal deck of cards when the mood strikes. I will not play the online versions of solitaire with the web unknown - the game was called solitaire for a reason: to be played and enjoyed alone.
My first experience with computer solitaire was with the standard "Klondike" version issued on most computers running Windows. I was soon bored with this and went looking on the Internet for more. The first program I downloaded was 123 Free Solitaire (an offshoot of SolSuite), and it was then I learned different variations of the game. Little did I know at the time that there were hundreds more to follow. After 123 Free Solitaire, I opted for the "paid" version of the program, which turned out to be SolSuite. Initially, there were more than two hundred variations of solitaire within the computer program. Over the years this has increased, of course, and now there are more than four hundred games. There are also options to customize each game with background choices, card backs and audio.

Speaking of SolSuite, they also offer Mahjong Suite. I was skeptical about mahjong at first, but decided to give it a whirl. There are literally millions of possible game combinations, with several tile selections (from classic to traditional and the bizarre). One of the features I particularly liked when I first started was the "suggest a move" option from the Game Menu. I wasn't sure what I was doing in the beginning, so the little hints helped me learn the game faster. I highly recommend Mahjong Suite for hours of endless pleasure. The game is very addictive.
Another collection is Hardwood Solitaire. This is also one of my favorites, mainly because of the sound and visual effects. The backdrop in various games is medieval, and the music is dreamy and almost mystic.
Yet another well-done program is Pretty Good Solitaire. From Goodsol Development, the large assortment of games and customizable features make it worth the price. They also offer Absolute Yukon (my fave being "Russian Point") and Action Solitaire.
Goodsol Development also produced Pretty Good Mahjong, a wonderful set of tile, solitaire and memory games that keep me transfixed for long stretches of time. However, Pretty Good Mahjong is substantially more expensive than Mahjong Suite from SolSuite. Make sure you like the games before buying Pretty Good Mahjong - there is a trial download available.
If you like interaction, sound effects and superb graphics, Hoyle (Encore) Card Games is your best bet. This software not only includes solitaire, but has other favorites such as Hearts, Poker, Old Maid, Cribbage, Gin Rummy and others. You can customize your "character" in the games, and select various opponents who also talk, make gestures and have personalities all their own. Another favorite is Hoyle (Encore) Puzzle & Board Games, which includes a very realistic Chess, Go-Fish, Old Maid, Spite & Malice, a variation of Yahtzee called "Yacht" and many more.
Both Hoyle programs are highly recommended by me. However, if you ever need to contact Hoyle's customer service department don't hold your breath waiting for a response. This may have changed since a company named Encore took over selling the games.
For a good laugh and fun game-play, try Pete Wiseman's Solitaire City.

Single-game programs that remain tried and true although sometimes difficult to win are Chinese Solitaire (often included in the multi-game programs as well), and Midnight Sunitaire (which can be had either as "shareware" or for free, depending on where you find it).
Mike's Cards is another personal favorite, not only because the program is fun but because I happen to know the designer, Mike Sedore.
More Games & Honorable Mentions:
Other excellent card games include Idiot's Delight, Loch Ness Solitaire, and Solitaire Plus!. On the "other side" of solitaire, I enjoy playing Hardwood Hearts, Hardwood Spades (more medieval caricatures); and Yahtzee.

Haunted Domains is a favorite, although Level 48 is nearly impossible to crack. Big Fish describes the game: As manager of Haunted Domains, you are in charge of tending to the needs of an assortment of amusing creatures of the night. Guide Sheila Sullivan as she checks in guests, serves dinner, cleans rooms and performs special tasks in an effort to keep her ghoulish guests happy. Purchase magical upgrades that make Sheila work faster, decorate your hotels to suit the macabre tastes of your guests, and enlist the help of Igor when things get out of hand. Great fun!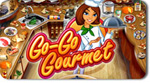 I discovered Go-Go Gourmet in 2008, which is an animated program whereby the player attempts to "find ingredients, whip-up recipes, and juggle hungry customers. Become a master chef working alongside six nutty restaurateurs at seven uniquely themed restaurants in this combination hidden-object and time-management game." Very fun indeed, and a nice deviation away from solitaire. The sequel, Go-Go Gourmet: Chef of the Year, is even better.

The Diner Dash and Cooking Dash time-management games from Play First are a definite challenge. However, they are a bit frustrating at times when trying to pass levels that become increasingly more difficult. From Wikipedia: "[Diner Dash] game play involves seating customers and guiding Flo around the restaurant to serve customers. If enough money is earned after each level, play progresses to the next. As the game progresses Flo updates the dilapidated restaurant she begins with and builds three further restaurants, which provide new settings."


The "foody" games have led to my fascination with "hidden object" forms of computer entertainment. The new list includes many mystery-type programs such as Cooking Quest, Death on the Nile, Haunted Hotel, Peril at End House, The Lost Cases of Sherlock Holmes, Mystery Cookbook, Gourmania, Mortimer Beckett & the Secrets of Spooky Manor, Mystery in London, Mystery Legends: Sleepy Hollow, and especially Mystery Case Files (Huntsville, Prime Suspects, Ravenhearst, Madame Fate, Return to Ravenhearst, Dire Grove, 13th Skull, Escape From Ravenhearst, Shadow Lake, Fate's Carnival, Dire Grove, Sacred Grove, Key to Ravenhearst, Ravenhearst Unlocked, Broken Hour, The Black Veil, The Revenant's Hunt, Rewind, The Countess, Moths to a Flame, Black Crown, The Harbinger, and Crossfade).
Big Fish Games is a great resource for the above mentioned titles. They publish a new game every day, and their customer service department is tops. Give them a whirl!
Click here for a list of the best and the worst games.