Glinhaven
Deborah O'Toole is author of the gothic fiction novel, Glinhaven.
The book was released by Club Lighthouse Publishing in April 2020. Click here to read the press release >
Story description for Glinhaven:
Piper Hunt leaves Boston to take over her grandfather's unique curio shop in Glinhaven, Massachusetts. While adjusting to life in the quaint seaside village, she uncovers dark secrets hidden at the forbidding Glinhaven Monastery which may also unlock mysteries from her past.

Glinhaven Monastery drips with sinister eeriness, especially at night when bone-chilling fog rolls in from churning North Shore sea waters. The centuries-old stone structure appears as a hulking ghost in the mist, its walls bloated with history and unspeakable secrets. Yellow light from carriage-style lamps intensify the monastery's forbidding effect, the black-squared globes positioned in four-foot intervals on massive walls which surround the holy nucleus, gazed upon in deadly fear by residents of Glinhaven Village . . .
> Click here to read excerpts from Glinhaven.

BONUS FEATURE:
Glinhaven Cookery is a compilation of more than 45 recipes mentioned or prepared by characters in the gothic fiction novel Glinhaven by Deborah O'Toole. The cookbook is freely available from Club Lighthouse Publishing to those who purchase the novel at Club Lighthouse or Amazon.
"GLINHAVEN" BOOK INFORMATION: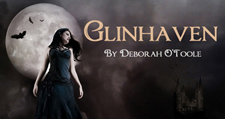 For more, visit Deborah O'Toole's website.