What I'm Reading...
I don't get to read as often as I would like to, so there is always a stack of books beside my bed. I do read them all eventually, but if one happens to be exceptional I'll typically drop everything else I'm doing and read until I'm finished. The book titles at my fingertips change with regularity.
My current stack includes:
---
More About Reading:
I'm a big fan of "Gothic" novels from the 1970s, especially titles written by Dorothy Daniels, Marilyn Ross and Marilyn Harris. In particular, I'm an avid collector of Dark Shadows paperbacks.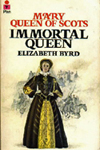 What is my all-time favorite book? That's a difficult question. There are many books I read over and over – not in succession, but as the years pass. Bledding Sorrow by Marilyn Harris is one of the best, as is A Woman of Substance by Barbara Taylor Bradford. I appreciate Stephen King's sense of humor and enjoy most of his books. I re-read the The Hobbit and The Lord of the Rings every five years or so. I consider The Thornbirds by Colleen McCullough to be a classic, along with Trinity by Leon Uris and Shogun by James Clavell. I'm also likely to read anything written by Alison Weir, Ken Follett, Edward Rutherfurd and Bertrice Small.
However, if I had to pick one title that outshines all the rest it would be Mary, Queen of Scots: Immortal Queen by Elizabeth Byrd. Released in 1952, this out-of-print novel about the ill-fated Scots Queen is expertly dramatized and rich in character study.
Ms. Byrd's writing skills are unmatched in my mind, and I can only wish to be as brilliant as she.