Ode to Dorothy Daniels
Posted Saturday, 06/26/21
It's no secret that I'm a huge fan of author Dorothy Daniels. Her books have been one of the handful of constants in my life, her subtle skill somehow excelling in spite of the simplicity found in many of her stories. As I re-collect all of her novels for my permanent bookshelf, reflecting on her history as a whole has also become an enjoyable pursuit.
From BGSU/University Libraries:
Dorothy Smith Daniels was born in Connecticut on July 1, 1915. She earned a diploma from Central Connecticut State College in New Britain, Connecticut. She married Norman A. Daniels, a writer, on October 7, 1937, and presumably died on December 3, 2001. Daniels began her writing career in the early fifties while living in New York City by writing short stories. She became ill, discontinued writing, and moved to California in 1956. In 1961 she resumed her career with hard cover doctor-nurse stories. Paperback Library became interested in her books and purchased them. They sold so well that they contacted Daniels to do original doctor-nurse paperbacks. Paperback Library then suggested that she try her hand at Gothic novels. Her husband, who had been writing detective and suspense stories for years, offered to guide her in the media. She switched to Gothic fiction and wrote exclusively in that genre from that point on, with over one hundred forty novels in print. She also wrote under the pseudonyms: Danielle Dorsett, Angela Gray, Cynthia Kavanaugh, Suzanne Somers, Helen Gray Weston, Helaine Ross, and Geraldine Thayer.
The image below is one of the few authenticated picture of Dorothy Daniels I've been able to find (located on the back cover of Cliffside Castle). This diminutive-looking lady was an amazingly prolific writer, something I can only hope to aspire to. She churned out more than 142 novels between 1965-1985.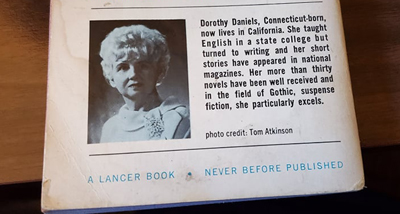 I owe an enormous literary debt to Mrs. Daniels as she was a staple read of my late teen years into my 20s. She helped shape my own writing style over the years, especially an attention to detail that has followed me during my entire career to date. Her influence on me has been everlasting, and priceless.
Click here for a complete list of Dorothy Daniels titles (430 KB, PDF).

Tags: Books & Reading