Crypt-A-Coming
Posted Mon, 10/07/19
After I finished editing The Crypt Artist earlier this month, I sent the manuscript to my publisher. Within a short time I heard back from her, a contract for the book attached to her return message. In other words, it's official.
To read the news announcement, click here.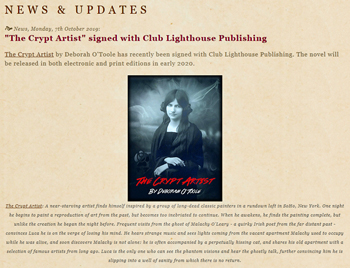 I'm supremely grateful to Terrie at Club Lighthouse Publishing for her friendship over the past nine years. She has given every one of my books a chance, something I never take for granted. I experience typical doubts about the content and quality of my stories on an ongoing basis, which is probably a natural reaction to one's own work, but she reassures me and guides me to the finish line every time.
The Crypt Artist will be released in e-book and paperback formats early next year. In the interim, I've also provided several excerpts from the book on my website.

*Related Blog Posts: Crypt-A-Coming (10/07/19); Crypt Final (10/06/19); Writing, Editing, Et Al (08/16/19); Crypt Complete in the Great Outdoors (08/11/19); Release Revisions (11/29/18); Crypt Writing (06/10/18).
Tags: The Crypt Artist