Writing, Editing, Et Al
Posted Fri, 08/16/19
"Editing" is a loose term for a multi-faceted process. It is one of my least favorite parts of writing. For a reader, it can be likened to perusing the same book over and over again. One might like the story, yet it's not natural to re-read the same thing repeatedly in a relatively short amount of time. It then becomes a task of catching errors rather than reading for pleasure.
However, there is a certain pattern I follow while editing a book, which has rarely varied over the years. It can be a long haul, depending on the length of a particular book. In most cases during a first round of editing, I'll find changes that need to be made on nearly every page. Some of the changes might be mere typos while others can be related to story structure. Editing is as much about fixing the simple as well as the complicated.
Once the story is initially complete - the process for me which includes writing by hand and then typing into a Microsoft Word document - I check for typical typo errors (form to from, then to than, etc). Then I update the spreadsheet for the book, and print the entire lot. Armed with ink pens and multi-colored highlighters, I settle myself into a comfortable spot and start reading - over and over again, at least a dozen times, using a different color of highlighter for each round. I tend to take a break in between rounds in order to clear my head and have a fresh pair of eyes. It can often be difficult to be objective while critically analyzing one's own work.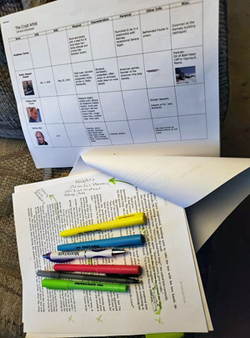 It usually takes me anywhere from a few weeks up to a month or two to complete the editing process on a book. However, true to form, I'm typically drawn right back into it once I give it a brief rest. Sometimes I make the mistake of randomly reading passages once a book has gone to print, and inevitably I find something that needs changing in my view. By then it's too late to fix, but I always know it's there.
About Character Spreadsheets
I typically map out a detailed family tree for each specific book and also create a spreadsheet to avoid inconsistencies and to track character quirks and descriptions. The spreadsheets alone can become an enormous project, depending on the number of characters involved and the length of a particular book (as what happened with the Collective Obsessions Saga). For the family tree, I use the software program Fam-Tree, and the spreadsheets are created in table format using Microsoft Word.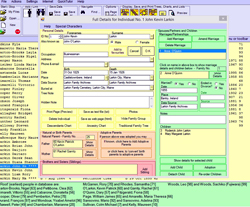 Since I'm a writer often inspired by images, my spreadsheets include thumbnails of people I feel represent my fictional characterizations. The images are not indicative of true personality traits of real people by a long shot, but rather a general idea of what I envision as the "outer shell" of each character.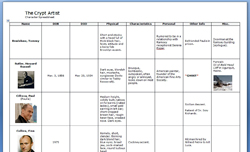 There are several examples of this within the large (40+ pages) spreadsheet for the Collective Obsessions Saga. For instance, I based John Larkin's appearance on David Selby, who portrayed Quentin Collins in the Dark Shadows TV serial. The physical aspects of Mayor David Azoulay, who appears in Hearts Desires, The Twilight and Megan's Legacy, was inspired by Mark Feuerstein, star of the USA Network series Royal Pains. Colm and Mike Sullivan, who are described as closely resembling one another in the various storylines, are based on Jason Connery as he appeared in Robin of Sherwood. Each character had their own snapshot, which rarely changed as the writing went on.
POV (point of view)
Some authors and editors feel POV (point of view) is a technical issue that can be "killing to the novel." While writing from multiple points-of-view can be confusing and unreadable, switching the mind set between a few characters in one scene simply adds to the story if it is well-written.
I'm of the mind that switching POVs adds to the story if well-written. But that's the catch . . . learning how to do it well. Such a skill doesn't happen overnight, and might take years of practice. I'm in no way implying that I do it well, yet I certainly like reading books by authors that successfully manage the technique.
Multiple POVs also work well in scenes containing horrific events, such as natural disasters (tornados, earthquakes), crime drama scenarios (serial killers, robberies) or man-made catastrophes (bombings, plane crashes) where different characters are all having "this is it" thoughts at the same time. If the scene is set properly, switching POVs shouldn't be difficult to follow.
Genre Pigeonholes
While I favor fiction-writing, I don't limit myself to one genre. I've been writing in a variety of genres for many years, including fiction, mystery, suspense, paranormal, fantasy fiction, juvenile short-story fiction, poetry, book reviews, culinary arts, and a collection of historical essays.
However, I find writing short stories more difficult than putting together a full-length fiction novel. Not because of the time involved but rather dialogue and description has to fit into a smaller space. In other words, the message has to be put across quicker and more clearly. It's much easier to expand rather than to detract, in my view.
On the flip-side, writing articles is somehow easier because the author is penning directly from the head with thoughts and angles original to them (unless quoting a source). Oddly enough, I take pleasure in researching material for a new article, essay or book review. The research and experimentation for all the titles in the Culinary Collection was especially enjoyable for me.
While I've gotten behind on articles, essays and culinary titles because of other commitments, I do have plans for an essay/article about Lizzie Borden and a much lengthier bit about Native American cuisine. In 2020, maybe?
That Being Said . . .
In a nutshell, editing is akin to torture. But, when it's all said and done, it's also one of the most satisfying aspects of the process in dichotomous fashion. To see something from start to finish, a product of your mind and imagination come to fruition, is perhaps the most gratifying of all. There is nothing quite like it, and certainly nothing ever equals it.

Tags: Collective Obsessions Saga; Historical Essays; The Crypt Artist; Writing & Editing