My Darling Girl
Posted Mon, 02/18/19
Holiday Nods
Posted Wed, 12/19/18
Poetry in Motion
Posted Tue, 12/18/18
Social Media Et Al
Posted Sat, 12/15/18
Celtic Remnants with CLP
Posted Mon, 12/03/18
Celtic Remnants has been taken on by Club Lighthouse Publishing. The novel will be released in both electronic and print editions in 2019. I just signed the contract a few hours ago, and I'm as happy as a clam.
Celtic Remnants was previously released by Tyborne Hill and available on Amazon, Barnes & Noble and Kobo Books from 2013-2018. During that time, the novel was reviewed several times and was also the subject of an online interview undertaken by me with Writers Alive/Blog Talk Radio
.
Celtic Remnants by Deborah O'Toole is a novel of enduring love and betrayal set in the political turbulence of Ireland, glamour of London and the wilds of Scotland.

A young girl is shaped by horrific events which change her life forever. After Ava's brother and parents are killed by British soldiers, she vows to avenge their deaths as she picks up the pieces of her shattered world.

Before she can move on, Ava falls in love with handsome nobleman David Lancaster, eldest son of a belted Earl. Their relationship ends dramatically when his family refuses to accept her. Afterward, Ava sets her life on a course of violent revenge in the name of political justice with her childhood friend, Tim O'Casey.

Unable to forget Ava, David hires a private investigator to look for her years later. When he finds her, Ava is hardened by more than a decade on the run and wants nothing to do with him. However, after being injured during an ambush in the English countryside, Ava and Tim go to David for help. He spirits them off to a remote Scottish hunting lodge to heal.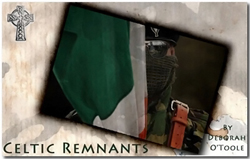 Momentarily safe amidst the rugged beauty, Ava begins to wonder if she can give up her deeply-felt political beliefs to build a normal life with David. Or will happiness forever elude them?
Can Ava relinquish her political convictions, even for love?
I adore Terrie and James at Club Lighthouse Publishing. They have put up with me for many years, and now it looks like our time together will be extended. I'm very happy about it.
As I've said before, it never gets old to be published. Never
.
Tags: Celtic Remnants
Release Revisions
Posted Thu, 11/29/18
Unfortunately, I've had to revise the finish dates on all of my works in progress. Various events during 2018 took a vast amount of my time. However, I've brought myself around and extricated myself from certain situations. I'll try not to allow personal diversions to take too much of my attention again.
Revised release dates are as follows (as of this writing):

As per my usual notation, storylines, estimated release dates and book cover designs may be subject to change (yet again).

Tags: Writing & Editing
Editing for Print
Posted Wed, 11/28/18
The paperback edition of Megan's Legacy, 8th and final book in the Collective Obsessions Saga (written by me as Deidre Dalton) will be released in early December. This brings the family saga full circle, all titles now available in both e-book and print versions. While The Twain Shall Meet (book #3) remains my personal favorite in the series, Megan's Legacy runs a very close second.
I recently spent all night reading the book again, doing one last check for typos. When at last it was finished, I thought about a blog entry written in 2011:
The Collective Obsessions Saga is finally complete. I can't believe I'm saying the words. I sent the manuscript for Megan's Legacy, which is the eighth and final part of the saga, to my publisher this afternoon. The final draft of book eight came in at 265 pages with a word count of 114,403. The last few days were exhilarating for me, being fully aware the end of the line was near. Considering I began writing the storyline many years ago, I'm stunned rather speechless that it's finished, once and for all.

Even better, I'm very happy with the way the story ended. A few months ago I envisioned agonizing over the finale, but it didn't happen that way. I knew exactly where I wanted to go, and that's where I took the story and its characters.

It's been a very long haul indeed, but well worth it. I've probably said it many times before, but writing and finishing the Collective Obsessions Saga has been deeply satisfying in all ways that truly matter to me.
The saga is now well and truly finished.

Tags: Collective Obsessions Saga
Recent Entries: