Glinhaven Forthcoming
Posted Mon, 01/13/20
It's official! Glinhaven was signed with Club Lighthouse Publishing on January 13, 2020. The estimated release date for the novel will be late spring/early summer 2020. Click here to read the press release >
When my publisher first received the manuscript, she made a comment along the lines of "it has a Dark Shadows feel to it." No higher compliment could come my way, because that's exactly what I set out to do when I first began writing Glinhaven.
There's going to be some extra goodies that come along with Glinhaven, including a cookbook derived from characters and food mentioned in the story line, excerpts, book cover history, Q&A, Cast of Characters, FAQs About Monks, The Cats of Glinhaven and a bit about Piper's Hats.
The cookbook - known as Glinhaven Cookery - will be offered for free for anyone who purchases the Glinhaven novel at Amazon.
And there is now an official website for Glinhaven, where news about the release of the book will be posted regularly.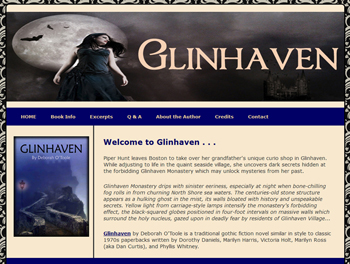 Meanwhile, the following comes from the dedication page Glinhaven:
"Glinhaven" is dedicated to my favorite gothic authors, who in part inspired the story that unfolds in the following pages: Dorothy Daniels, Marilyn Ross (aka Dan Curtis), Marilyn Harris, Victoria Holt and Phyllis Whitney. Thank you for the many hours of reading enjoyment when I was in my teens and early 20s, and for inspiring me to do the same for others.
As I've said before, Glinhaven is my ode to the gothic fiction genre. Hopefully, I was able to do it justice.

Tags: Glinhaven
Bloodfrost Out & About
Posted Mon, 12/16/19
Bloodfrost (by yours truly writing as Deidre Dalton) was released by Club Lighthouse Publishing on December 16, 2019. The novel is available in both paperback and e-book editions.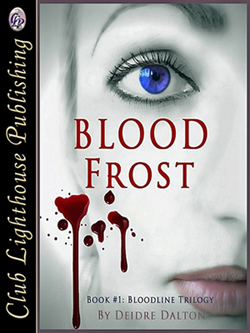 Noel Gatsby's dreams take her away from the misery of her pain-wracked, disease-riddled body. The dreams become real when she awakens one morning to find herself completely cured. However, she soon learns her miraculous recovery comes at a price . . .

Old before her time and afflicted with a myriad of medical problems, Noel Gatsby retreats into her "wishful-thinking" dreams every night. Desperate to escape the circumstances of her life, she imagines a world where all of her pain and suffering stops, to be replaced by the vigorous health of her youth. Yet each morning she awakens to the misery of her real existence, consumed by pain and depression.

Then one night her dreams come true. Noel is transported to another world, where healing hands work their magic on her tired body. She awakens without pain, filled with an exuberance and joy she never thought to experience again. Her unique affinity with the handsome Pim Grady gives her hope for the future, although their blossoming love is tempered by knowledge of their shared and secretive dreams.
Thus begins The Bloodline Trilogy, which will continue with Bloodlust and Blood & Soul in 2020 and 2021, respectively.

Tags: Bloodline Trilogy
Gliding through Glinhaven
Posted Mon, 12/16/19
Glinhaven is complete (as of yesterday), so this is how my time will be spent for the next few weeks or so.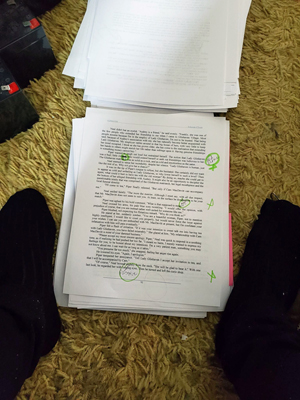 I've no space to put the manuscript on a table, so I lay it out on the floor next to my computer as I edit.
Am I happy with Glinhaven at this point? As with any other time I finish writing a book, my answer would be no. There are various points in the story I either need to expand or detract, so it will be a matter of making changes as the editing process gets underway.
Lucky for me, Glinhaven was nearly complete when I put it aside last year in order to finish The Crypt Artist. It took me about a week to familiarize myself with Glinhaven once I picked it up again, but it was soon full-steam ahead. I'm predicting a complete finish by year-end. In the interim, I'm keeping my fingers crossed.
There will also be a few extras once the book is complete, such as documents highlighting monks and Scottish Fold cats, which are present in the fictional storyline. In addition, there is a cookbook of sorts in the works, based on recipes mentioned or prepared by fictional characters in the novel. The documents aren't available yet, but to see what's coming click on the screenshots below.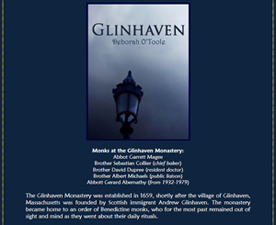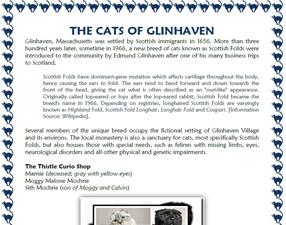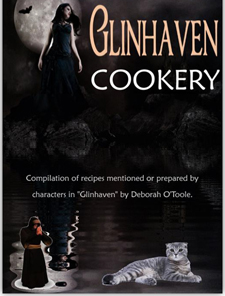 A new cover has also been designed for Glinhaven. I recently put up a picture comparing the old and new book covers on my Facebook page, and the new cover received an overwhelming 100% of the vote. A back cover has also been designed.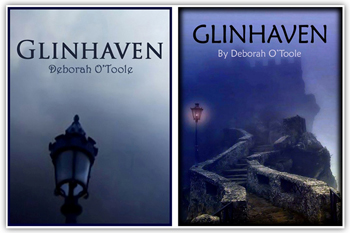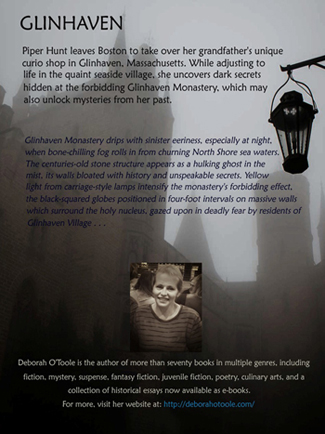 In addition, I'm putting the final touches on an "official" website for Glinhaven, which should be complete by the end of the year as well.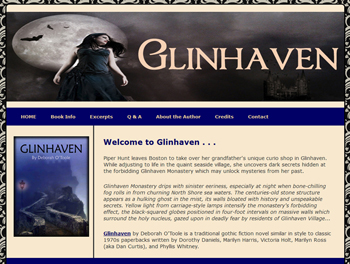 Meanwhile, the following comes from the dedication page in the book:
"Glinhaven" is dedicated to my favorite gothic authors, who in part inspired the story that unfolds in the following pages: Dorothy Daniels, Marilyn Ross (aka Dan Curtis), Marilyn Harris, Victoria Holt and Phyllis Whitney. Thank you for the many hours of reading enjoyment when I was in my teens and early 20s, and for inspiring me to do the same for others.
As I've said before, Glinhaven is my ode to the gothic fiction genre (as it was called back in the day). Gothic fiction novels were the staple of my teen years. I read everything ever written by Dorothy Daniels and Marilyn Ross specifically, with smatterings of Marilyn Harris, Victoria Holt and Phyllis Whitney. Even more specific, the series of thirty-two Dark Shadows paperback novels by Marilyn Ross (aka Dan Curtis) were my favorites. Back in "the day" the books were known as Gothic fiction novels, all of them containing mystery, the appearance of phantoms and happy endings. The Ross and Daniels titles are simple pleasures I used to enjoy as a late teen and early-twenty-something, but I still find them quaint and entertaining.
There are no explicit sex scenes in Glinhaven, which is par for the course in most traditional gothic novels. However, innuendo is present when it needs to be. I actually enjoyed writing without the pressure of adding detailed sexual interaction. My writing focus has never been on sex scenes, but I've undertaken them in other books when the storyline calls out for it.
Glinhaven is a one-off. It's basically my tribute to the gothic paperback genre in one fell swoop. The book is not long and complex like some of my other work, especially Celtic Remnants and the Collective Obsessions Saga, but I think it's a nod in the right direction.

Tags: Glinhaven; Writing & Editing
Winter Newsletter
Posted Sun, 12/01/19
Another year has almost come to an end, and I find myself contemplating what has been accomplished. The old adage of "how time flies" is certainly true, and makes one realize how precious each moment of every day really is. However, I have to admit the past twelve months have been very productive for me.
So begins my winter newsletter, which is now available online, and also for the first time as a PDF download.
Here are some highlights from the newsletter: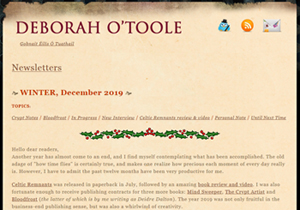 ~ Glinhaven ~
I'm having fun writing Glinhaven at the moment, especially after I recently added two new "elements" to the storyline. They include Moggy Malone Mochrie and Sith Mochrie (see photo below).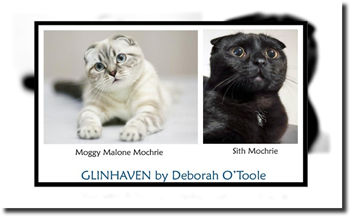 The two Scottish Fold felines now have a place in the story, their domain being "The Thistle" curio shop in Glinhaven Village, Massachusetts. For story purposes, Moggy Malone is elegant and dignified, while poor Sith is clumsy and goofy. I named them using researched Scottish lingo: Moggy is slang for "cat," while Sith is the word for "fairy cat" in Scots Gaelic mythology.
According to Wikipedia:
The Cat Sìth (Scottish Gaelic) or Cat Sidhe (Irish], Cat Sí (in new orthography) is a fairy creature from Celtic mythology, said to resemble a large black cat with a white spot on its chest. Legend has it that the spectral cat haunts the Scottish Highlands. The legends surrounding this creature are more common in Scottish folklore, but a few occur in Irish. Some common folklore suggested that the Cat Sìth was not a fairy, but a witch that could transform into a cat nine times.

The Cat Sìth may have been inspired by the Scottish wildcat itself. It is possible that the legends of the Cat Sìth were inspired by Kellas cats, which are a distinctive hybrid between Scottish wildcats and domestic cats only found in Scotland (the Scottish wildcat is a subspecies of the European wildcat, which is absent from elsewhere in the British Isles).

The people of the Scottish Highlands did not trust the Cat Sìth. They believed that it could steal a person's soul, before it was claimed by the gods, by passing over a corpse before burial; therefore watches called the Feill Fadalach (Late Wake) were performed night and day to keep the Cat Sìth away from a corpse before burial. Methods of "distraction" such as games of leaping and wrestling, catnip, riddles, and music would be employed to keep the Cat Sìth away from the room in which the corpse lay. In addition, there were no fires where the body lay, as it was said that the Cat Sìth was attracted to the warmth.
As I've discovered over time, the inclusion of animals can often enhance certain scenes, and can inject humor into the mix as well.
Writing as myself, and then switching to my literary pseudonym Deidre Dalton, entails a complete change in mindset. While most of my books are generally descriptive, those written under the "Deidre" hat tend to swim in much darker waters. This isn't to say I possess split personalities, but the creative direction requires a definite swing in focus.
The books I've written under the "Deidre" moniker go deeper into the dark side of various personalities, and some of the actions undertaken thereof require a balance between good taste and blatant sexuality and/or violence. If I were to psychoanalyze myself, I'd have to say this all began in my teen years when I wrote murky verses and followed my morbid train of youthful thought, as evidenced in my book of poems known as Torn Bits & Pieces.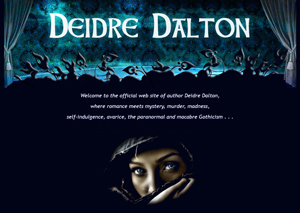 The fictional result of my shadowy ventures has become the Collective Obsessions Saga, to be followed closely by The Bloodline Trilogy. When the trilogy is complete sometime next year, I'm not sure where I'll head wearing my "Deidre" hat. Anyone's guess is as good as mine, but rest assured Deidre Dalton will make a reappearance, in one way or another.
~ Personal Note ~
I rarely make mention of my personal life, and over the years have kept reference to it at a bare minimum. However, most people know I've been married three times as I am not ashamed of it, not do I attempt to hide it. The marriages were all lengthy, and all ended for a variety of reasons.
While my personal life journey has never taken an easy or normal route, events occurring in 2018 were bizarre even for the likes of me. Yet they resulted in a happy set of circumstances. To make a long story short, my first husband, Jerry Dalton, contacted me via Facebook on October 20, 2018, sending me a friend request. We had not seen or spoken to each other in more than twenty years. In the interim, we had both remarried and carried on with our lives.
Meeting again for the first time after two decades was quite amazing in itself, but what followed was even more remarkable. We again developed a relationship rather quickly, and within six months had moved in together. We've been cohabitating ever since, and to that end I definitely consider Jerry to be my "significant other."
We recently went to dinner with some old friends, Ben Opfermann and his wife, Sharon. Ben was there when Jerry and I met for the first time, many years ago. The three of us worked together, and Ben was privy to our first courtship and subsequent marriage. He was kind enough to take a picture of us at the recent dinner. I took the photo and placed it in a frame with a picture of us all those years ago.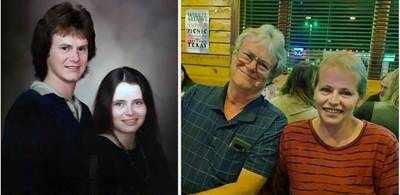 Jerry was there in the beginning, when I first began writing the Collective Obsessions Saga. By the time we divorced in the late 1980s, I had nearly completed "Larkin" (which later became The Twain Shall Meet).
Life can turn on a dime, and then come full circle. I'm living proof of it, happily.
And if anyone ever wondered about my use of the writing pseudonym Deidre Dalton, the truth is now finally revealed. ;)