Facebook Woes
Posted Sun, 01/14/18
Facebook suspended my "Deidre Dalton" account (which I'd had for 7 years) because I don't have valid ID in that name.
Rest assured, I'm a real person who is easily found online because of my books. "Deidre Dalton" is a writing pseudonym, common in my world.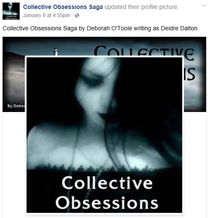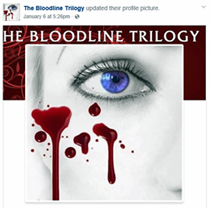 Anyway, I've added the books written as Deidre Dalton under my real name Deborah O'Toole (which also entails changing hundreds of links on various other websites). Click on the pictures above to go to their relevant Facebook pages.
What a royal pain!
*PS:
It finally dawned on me why my writing has suffered the last few months. I spend way too much time on Facebook.
:(
Tags:
Bloodline Trilogy
; Collective Obsessions Saga
Autumn Newsy
Posted Wed, 11/22/17
"The Twilight" in Print
Posted Sun, 10/29/17
The Twilight, 7th novel in the eight-part Collective Obsessions Saga, is now available in print.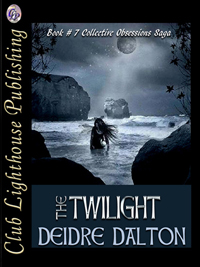 Shannon Larkin and Scott Page are happy in their long marriage, but a tragic loss forces her to delve into the past in order to face ugly truths about her husband. Devastated, she retreats into her own solitary world. A stranger brings Shannon out of self-imposed exile and shows her the beauty of unconditional love exists after all.
Please Note:

Let me qualify that The Twilight (named such about nineteen years ago), has absolutely nothing to do with vampires and the like, but rather the sunset years of a long relationship.

Enjoy!
Tags:
Collective Obsessions Saga
Hearts Cover History
Originally posted Wed, 02/27/13 - UPDATED Sat, 08/26/17
(upon release of the paperback edition of Hearts Desires).
This was the "working" cover for Hearts Desires for quite awhile, pre-book release: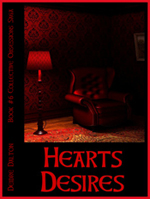 The red room was indicative of a bloody scene where Jack Sansovino rapes Jamie Page and then beats him to a near-pulp. The incident takes place in the bedroom of Jamie's cottage, a short distance from the Larkin mansion.
The second cover was rather vague, but I liked the design anyway: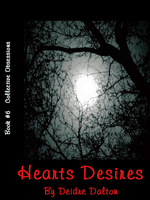 The third cover was a rendition of semi-main characters Brose Larkin and Bridget Gallagher in an embrace as they look out over Larkin City under a starry sky: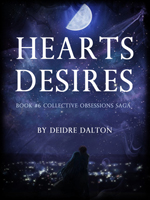 The fourth - and official e-book cover - for Hearts Desires was rendered by T.L. Davison, which features Jamie, Jack and Jamie's dog in frame: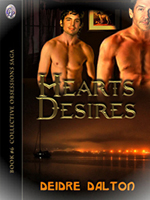 I was uneasy about having two bare-chested men on the cover at first. Not because the men happen to be gay, but suggestive nudity - even with women - is just not my cup of tea.
And the cover for the paperback edition of Hearts Desires: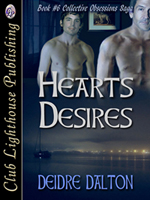 None of the books in the Collective Obsessions Saga are heavy on sex scenes. How many ways can one write romantic interludes for a connecting series of books that span 140 years? I tried to be creative as the storyline progressed, which sometimes resulted in violence or mild kinkiness, but the scenes are a backdrop rather than the focus.
However, I've come to appreciate the cover for Hearts Desires. Not so much for the men depicted, but for the inclusion of the dog in a framed picture behind them. The image threads into the final part of the saga (Megan's Legacy) in subtle fashion, which will only be realized by readers when they finish the last book.

Tags: Collective Obsessions Saga; Photos & Other Images
Incense Love
Posted Fri, 08/11/17
Below is a photo of my eclectic collection of incense holders, which I use on a daily basis.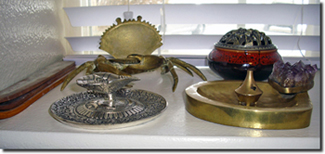 The tray with the purple crystal is actually a candy dish my father brought back from Brazil years ago, and the crab was once used as an ashtray I found in Tucson during the 1980s.
I adore scented candles and incense, especially fruity (mango) and spicy (vanilla) aromas.

Tags: Photos & Other Images
Blog Sparsity
Posted Wed, 07/19/17
I've had a severe lack of blog posts since last month, but hope to remedy the situation shortly.
In June 2016, my longtime web host Tripod Lycos had a meltdown. I moved all of my writing-related websites to a new host (GoDaddy), where I've been very happy ever since, but left behind all of the cooking-related sites (Appetizing Muse, Food Fare, Food Fare Cookbooks, Food Fare Culinary Collection, and holiday articles that are available online such as Christmas Noel, Tea Time and Thanksgiving with Food Fare, among a few others).
Over the last week, I finally moved all of the remaining sites to my new web host. It was long, arduous and mostly tedious work to ensure all of the now-dead links were changed to the new pages. (Food Fare alone has more than 5,000 files). But, once and for all, I'm free of my old host and fully planted with the new. Boring, yes, but necessary for my peace of mind.
New valid links for the most recently migrated websites include:
I hope to spend the rest of this sweltering hot summer by writing.
Knock on wood.
*
Related Blog Posts:
Tech Anguish
(06/18/16) and Blog Sparsity (07/19/17).

Tags:
Web Design/Computer Misc
Keeper in Print
Posted Fri, 06/09/17
The Keeper's Journal, 5th novel in the Collective Obsessions Saga, is now available in print. The paperback edition has a slightly modified book cover designed by T.L. Davison.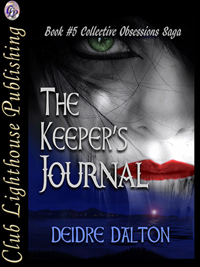 Shannon Larkin is forced to confront demons from her past, while her daughter Angie discovers Colm Sullivan's journal in the old lighthouse keeper's cottage. The diary sheds light on the history between the Larkin and Sullivan families, but may be too late to stop the sisters of Mike Sullivan from wreaking vengeance on the Larkin's for sins and tragedies from the past . . .
Enjoy!
Tags:
Collective Obsessions Saga
Recent Entries: