Writing, Editing, Et Al
Posted Fri, 08/16/19
"Editing" is a loose term for a multi-faceted process. It is one of my least favorite parts of writing. For a reader, it can be likened to perusing the same book over and over again. One might like the story, yet it's not natural to re-read the same thing repeatedly in a relatively short amount of time. It then becomes a task of catching errors rather than reading for pleasure.
However, there is a certain pattern I follow while editing a book, which has rarely varied over the years. It can be a long haul, depending on the length of a particular book. In most cases during a first round of editing, I'll find changes that need to be made on nearly every page. Some of the changes might be mere typos while others can be related to story structure. Editing is as much about fixing the simple as well as the complicated.
Once the story is initially complete - the process for me which includes writing by hand and then typing into a Microsoft Word document - I check for typical typo errors (form to from, then to than, etc). Then I update the spreadsheet for the book, and print the entire lot. Armed with ink pens and multi-colored highlighters, I settle myself into a comfortable spot and start reading - over and over again, at least a dozen times, using a different color of highlighter for each round. I tend to take a break in between rounds in order to clear my head and have a fresh pair of eyes. It can often be difficult to be objective while critically analyzing one's own work.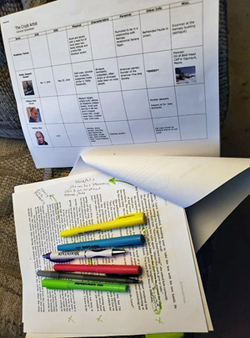 It usually takes me anywhere from a few weeks up to a month or two to complete the editing process on a book. However, true to form, I'm typically drawn right back into it once I give it a brief rest. Sometimes I make the mistake of randomly reading passages once a book has gone to print, and inevitably I find something that needs changing in my view. By then it's too late to fix, but I always know it's there.
About Character Spreadsheets
I typically map out a detailed family tree for each specific book and also create a spreadsheet to avoid inconsistencies and to track character quirks and descriptions. The spreadsheets alone can become an enormous project, depending on the number of characters involved and the length of a particular book (as what happened with the Collective Obsessions Saga). For the family tree, I use the software program Fam-Tree, and the spreadsheets are created in table format using Microsoft Word.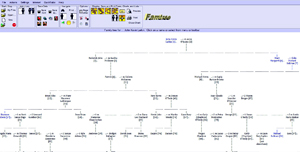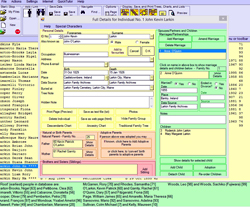 Since I'm a writer often inspired by images, my spreadsheets include thumbnails of people I feel represent my fictional characterizations. The images are not indicative of true personality traits of real people by a long shot, but rather a general idea of what I envision as the "outer shell" of each character.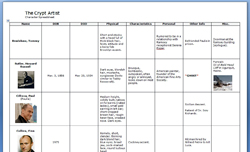 There are several examples of this within the large (40+ pages) spreadsheet for the Collective Obsessions Saga. For instance, I based John Larkin's appearance on David Selby, who portrayed Quentin Collins in the Dark Shadows TV serial. The physical aspects of Mayor David Azoulay, who appears in Hearts Desires, The Twilight and Megan's Legacy, was inspired by Mark Feuerstein, star of the USA Network series Royal Pains. Colm and Mike Sullivan, who are described as closely resembling one another in the various storylines, are based on Jason Connery as he appeared in Robin of Sherwood. Each character had their own snapshot, which rarely changed as the writing went on.
POV (point of view)
Some authors and editors feel POV (point of view) is a technical issue that can be "killing to the novel." While writing from multiple points-of-view can be confusing and unreadable, switching the mind set between a few characters in one scene simply adds to the story if it is well-written.
I'm of the mind that switching POVs adds to the story if well-written. But that's the catch . . . learning how to do it well. Such a skill doesn't happen overnight, and might take years of practice. I'm in no way implying that I do it well, yet I certainly like reading books by authors that successfully manage the technique.
Multiple POVs also work well in scenes containing horrific events, such as natural disasters (tornados, earthquakes), crime drama scenarios (serial killers, robberies) or man-made catastrophes (bombings, plane crashes) where different characters are all having "this is it" thoughts at the same time. If the scene is set properly, switching POVs shouldn't be difficult to follow.
Genre Pigeonholes
While I favor fiction-writing, I don't limit myself to one genre. I've been writing in a variety of genres for many years, including fiction, mystery, suspense, paranormal, fantasy fiction, juvenile short-story fiction, poetry, book reviews, culinary arts, and a collection of historical essays.
However, I find writing short stories more difficult than putting together a full-length fiction novel. Not because of the time involved but rather dialogue and description has to fit into a smaller space. In other words, the message has to be put across quicker and more clearly. It's much easier to expand rather than to detract, in my view.
On the flip-side, writing articles is somehow easier because the author is penning directly from the head with thoughts and angles original to them (unless quoting a source). Oddly enough, I take pleasure in researching material for a new article, essay or book review. The research and experimentation for all the titles in the Culinary Collection was especially enjoyable for me.
While I've gotten behind on articles, essays and culinary titles because of other commitments, I do have plans for an essay/article about Lizzie Borden and a much lengthier bit about Native American cuisine. In 2020, maybe?
That Being Said . . .
In a nutshell, editing is akin to torture. But, when it's all said and done, it's also one of the most satisfying aspects of the process in dichotomous fashion. To see something from start to finish, a product of your mind and imagination come to fruition, is perhaps the most gratifying of all. There is nothing quite like it, and certainly nothing ever equals it.

Tags:
Writing & Editing
Crypt Complete in the Great Outdoors
Posted Sun, 08/11/19
I finished writing The Crypt Artist at precisely 3:11pm on Monday, August 5, 2019. As usual, I celebrated with a cigarette and a nip of hooch. Click on images below to view larger sizes in a new window.
I'd been camping for four days and had spent much of it scribbling in my notepad, more focused than I'd been in many months, probably due to being completely out of cell phone range. However, the serene beauty of the location was not lost on me. It was quiet and secluded, and for the majority of time without interruption from a living soul. It also helped that I was staying in an extremely comfortable trailer, which is about the size of my former apartment.
I did manage to take a break now and then, such as riding an ATV on rocky roads and through water and mud puddles, star-gazing at night by a campfire with a hot toddy, and watching dark thunderstorms roll in at a moment's notice. I never thought I'd like the great outdoors to such an extent - until now I've thought of myself as an air-conditioned hotel room type of gal - but actually enjoyed myself immensely. Food even tastes better in the wilderness, as does that first cup of coffee in the morning when the temperature dips below 40F.
Back to The Crypt Artist . . .
Aside from inserting some extra scenes already written weeks ago, The Crypt Artist is complete. The book took me about two-and-a-half years to write, from start to finish. If I can keep to my self-enforced schedule, estimated final manuscript stage after the editing process should come by October at the latest - unless there are any changes or last-minute brainstorms, which has been known to happen on occasion.
There are a few people I'd like to thank before everything else gets lost in the shuffle. The Crypt Artist would have never come to fruition without their suggestions, encouragement and friendship. For that, I am deeply grateful.
First, thanks goes to my longtime friend and artistic creative advisor, Tracy Jon Powell. Some of his ideas brought forth my inspiration for The Crypt Artist storyline. While I did all of the writing, he also deserves credit for giving me initial brainwaves in the first place.
One day a few years ago, Tracy - a Native American artist of great talent - talked to me about a book he was writing. The story involved the ten months he spent homeless on the streets of Salt Lake City. Somehow or other, our discussion led to fiction writing, which is when he gave me the initial idea for The Crypt Artist. He suggested a story about a starving artist making a living from doing replications. We tossed about ideas for a few days before I actually started writing the beginnings of the story, and then my imagination took flight.
The scenes and dialogues came fast and furious after that, such as adding a selection of eccentric ghosts (four of which were also artists with one Irish poet), whose main purpose was to help the main character overcome some of his personal demons. I researched different areas and decided SoHo, New York was the best setting for the story. The main character's "loft" had all of the charm of a dumpster, yet still remained the perfect setting for his creativity and the creatures surrounding him (human and non-human alike).
Special thanks also goes to my friend Brendan Gallagher from Birr, County Offaly, Ireland. He gave me several quirks for the character Malachy O'Leary (including the basis for his drunken lamppost scene). Brendan's humorous "ideas" came from incidents he witnessed with real characters in his hometown of Birr, making them all the more hilariously funny. His re-telling of them put me in stitches.
And last, but not least, thanks to Jerry Dalton for guessing female ghosts are subtly more viscous than their male counterparts and for giving me the idea for Malachy O'Leary's pet feline Hissy Pissy (pictured below), who happens to be real and very much alive.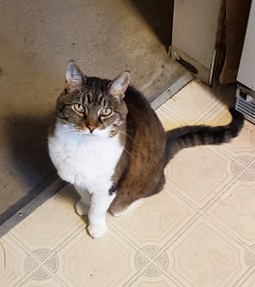 I have quite a few things on the back-burner as the editing process for The Crypt Artist gets in motion, including Glinhaven, Bloodlust, Blood & Soul, and In the Shadow of the King. I've also had some general conversation with my publisher about a sequel to Celtic Remnants. So if my stamina holds, next year will be quite busy indeed.
I wouldn't have it any other way.

Tags:
The Crypt Artist; Photos & Other Images; Writing & Editing
Cozy Reads
Posted Sat, 08/10/19
I've been a big fan of cozy mysteries for several years now. They are a wonderful way in which to relax and not over-think. That's not to say the writing is below par but rather well done to entertain without having to ponder the outcome for too long. In addition, the books remind me of the gothic novels I read as a teenager. Nothing too racy going on.
From Good Reads:
Cozies very rarely focus on sex, profanity or violence. The murders take place off stage, and are often relatively bloodless (poisoning), while sexual activity (if any) between characters is only ever gently implied and never directly addressed. The cozy mystery usually takes place in a small town or village. The small size of the setting makes it believable that all the suspects know each other. The amateur sleuth is usually a very likeable person who is able to get the community members to talk freely about each other. There is usually at least one very knowledgeable, nosy, yet reliable character in the book who is able to fill in all of the blanks, thus enabling the amateur sleuth to solve the case.
For me, it started with Diane Mott Davidson and her Goldy Schulz Culinary Mystery series. Next came Coffeehouse Mysteries by Cleo Coyle, followed by the Haunted Bookshop Mysteries by Alice Kimberly (aka Cleo Coyle), and the Clambake Mysteries by Barbara Ross.
My current reads are the Cat in the Stacks mysteries by Miranda James and Witch City Mysteries by Carol Perry.
The books provide endless hours of relaxation and entertainment. I know there are scores of other "cozy" mystery books waiting in the wings, so I don't think I'll run out of them any time soon.

Tags: Books & Reading
Mind Sweeper & Bloodfrost
Posted Thu, 07/11/19
Mind Sweeper (by yours truly) and Bloodfrost (by yours truly writing as Deidre Dalton) have been signed with Club Lighthouse Publishing. The novels will be released in both electronic and print editions in 2019.
by Deborah O'Toole is a haunting mystery/suspense novel that will be released by Club Lighthouse Publishing in 2019.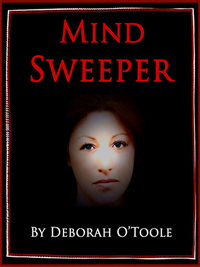 Newly-widowed Beth Mills accepts an outpouring of sympathy from her community after a freak mining accident takes the life of her husband, Aaron. Unbeknownst to anyone, she is secretly delighted that her cruel husband is lost to her, but never expects his vicious ghost to return and haunt her in more ways than one.
* * * * * *
Bloodfrost by Deborah O'Toole writing as Deidre Dalton is Book #1 in the Bloodline Trilogy. The novel will be released by Club Lighthouse Publishing in 2019.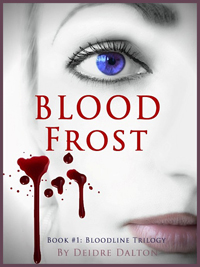 Noel Gatsby's dreams take her away from the misery of her pain-wracked, disease-riddled body. The dreams become real when she awakens one morning to find herself completely cured. However, she soon learns her miraculous recovery comes at a price.
Tags: Bloodfrost; Mind Sweeper
"Celtic Remnants" released
Posted Sat, 06/22/19
was released by Club Lighthouse Publishing on June 22, 2019. Initial release will be in e-book format, with the paperback edition to follow in a few weeks.
The book has long been in the making. While available before 2019 in electronic format, it is has been a project many years in process. It remains my favorite creation to date. A beloved and yet sometimes painful endeavor, if you will.
Celtic Remnants by Deborah O'Toole is a novel of enduring love and betrayal set in the political turbulence of Ireland, glamour of London and the wilds of Scotland.

A young girl is shaped by horrific events which change her life forever. After Ava's brother and parents are killed by British soldiers, she vows to avenge their deaths as she picks up the pieces of her shattered world.

Before she can move on, Ava falls in love with handsome nobleman David Lancaster, eldest son of a belted Earl. Their relationship ends dramatically when his family refuses to accept her. Afterward, Ava sets her life on a course of violent revenge in the name of political justice with her childhood friend, Tim O'Casey.

Unable to forget Ava, David hires a private investigator to look for her years later. When he finds her, Ava is hardened by more than a decade on the run and wants nothing to do with him. However, after being injured during an ambush in the English countryside, Ava and Tim go to David for help. He spirits them off to a remote Scottish hunting lodge to heal.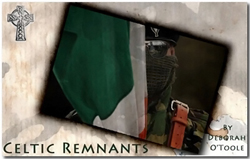 Momentarily safe amidst the rugged beauty, Ava begins to wonder if she can give up her deeply-felt political beliefs to build a normal life with David. Or will happiness forever elude them?
Can Ava relinquish her political convictions, even for love?
As much as I love all eight books in the Collective Obsessions Saga (by yours truly writing as Deidre Dalton), I have to admit Celtic Remnants tops my list over all the others. The novel was previously released by Tyborne Hill and made available from 2013-2018. The book was reviewed several times and was also the subject of an online interview undertaken by me with Writers Alive/Blog Talk Radio.
Special thanks goes to my cousin, Sheila O'Toole Domon, for being the perfect cover model for Celtic Remnants. And to my publisher and editor Terrie for her unique approach to the revised cover for Celtic Remnants. Her talent is boundless, and I'm lucky she puts so much of her artistic skill into each and every book.
Along with the paperback release of Celtic Remnants comes a newly-revised dedication, the words of which mean a great deal to me:
Celtic Remnants is dedicated to my darling mother Joyce O'Toole, who proofread everything I ever wrote and always offered creative encouragement; to my very dear friend Brendan Gallagher for his insight and humor; and to my uncle Mike O'Toole, who provided inspiration for the book in the first place.
Celtic Remnants is a true labor of love.
*Postscript (07/21/19):
Final front and back covers for the paperback edition of
Celtic Remnants
(click on image to view larger size in a new window).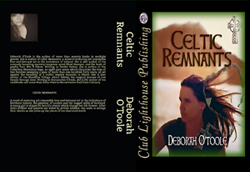 *Postscript (07/25/19): Received my copy of Celtic Remnants in paperback today. I'm beyond excited. :) Click on images below to view larger sizes in a new window.
*Related Blog Posts: "Celtic Remnants" released (06/20/19); Celtic Remnants Cover History (PDF); Celtic Remnants with CLP (12/03/18).
Tags:
Celtic Remnants
Send Comment