Winter Newsletter
Posted Sun, 12/01/19
Celtic Review & Video
Posted Sat, 11/02/19
In the Midst
Posted Sun, 10/27/19
Author Gab
Posted Sat, 10/26/19
Ripper Read
Posted Wed, 10/16/19
In honor of Halloween, a full viewing of Jack the Ripper is now freely available. The article first appeared in the online edition of Ambermont Magazine some years ago when I was one of their staff writers. It is also available in e-book format from Amazon and Barnes & Noble.
"Jack the Ripper" can be read online in its entirety for free from now until October 31, 2019 > >

by Deborah O'Toole is an essay about serial killer Jack the Ripper, which includes information about the Whitechapel district of London, the victims, suspects, the investigation, press coverage in the day, resources, suggestions for further study, related films and links to current computer games inspired by Jack the Ripper. Start reading >
Enjoy - and Happy Halloween!
Tags: Book Promotions; Historical Essays
Joys of Reading
Posted Sat, 10/12/19
I love reading any time of day, but I seem to do it mostly at night after going to bed. Some nights I fall asleep after reading a few chapters, other times I can stay awake for at least an hour. I'm one of those people who can fall asleep at the drop of a hat, even after consuming a pot of coffee, so I consider myself lucky if I can keep my eyes open for an hour after hitting the hay.
My current book reading stack includes Anne Boleyn: A King's Obsession by Alison Weir, and No Cats Allowed by Miranda James, part seven in the "Cat in the Stacks" mystery series.
During a recent trip to Barnes & Noble, I also picked up two "classic" volumes that I can hopefully dip into before the holidays begin in earnest. One is Penny Dreadfuls: Sensational Tales of Terror, and the other is A Treasury of Irish Fairy and Folk Tales. Both books were released by Sterling Publishing/Barnes and Noble in 2014 and 2015, respectively, and are beautifully designed with thicker than usual paper, gold edges and individual ribbon place markers attached to the spines. Each volume contains classic stories by a multitude of different authors.
Book descriptions from Barnes & Noble:
Penny Dreadfuls: Sensational Tales of Terror: Body-snatching! Premature burial! Cannibalism! The original Victorian-era penny dreadfuls entertained the masses with shocks, thrills, and lurid horrors. This terror-packed anthology includes two novels—The String of Pearls, which immortalized Sweeney Todd, the demon-barber of Fleet Street; and the original 1918 edition of Frankenstein—as well as tales by Poe, Robert Louis Stevenson, Stoker, Alcott, and Conan Doyle.

: Collect more than 200 stories from the rich folk legacy of the Emerald Isle. Its pages are animated with colorful tales of the fairy folk in all their many guises: the changeling, the banshee, the headless dullahan, the leprechaun, the merrow, and the ever-mischievous pooka. In addition, this volume includes tales of ghosts, witches and fairy doctors, priests and saints, encounters with the devil, titans of Ireland's historical past, as well as popular treasure legends. A Treasury of Irish Fairy and Folk is one of Barnes & Noble's Collectible Editions classics. Each volume features authoritative texts by the world's greatest authors in an exquisitely designed bonded-leather binding, with distinctive gilt edging and a ribbon bookmark.
Another recent and marvelous find was the Secret of Bramble Hill by Sue Owens Wright. Sue happens to be a longtime acquaintance of mine, so it was a pleasure to read her work. Known for her Beanie and Cruiser Mysteries, Sue's take on gothic fiction with Secret of Bramble Hill was flawless in its execution. I thoroughly enjoyed the book from start to finish, and highly recommend it to anyone who fancies the original gothic genre.
And last, but not least, my next read will be Love's Legacy by T.L. Davison. I also know this author quite well as she also happens to be my editor/publisher (aka Terrie Balmer and Club Lighthouse Publishing). The blurb alone fascinates me: "In the year 1799 in Cornwall, England at Cardon Hall, four people are intertwined in a hopeless situation that ends in murder." I'm looking forward to reading Terrie's novel, just in time for Halloween.
As with most aspects of reading and writing, the old saying truly goes: "So many books, so little time!"
Happy reading indeed . . .

Tags: Books & Reading
Upcoming Works
Posted Fri, 10/11/19
Now that The Crypt Artist has been to bed, so to speak, I'm moving on to other projects that have been on the backburner for quite awhile.
So, what's next?
Not one to rest on my laurels, I'm back to work on Glinhaven. The novel is already about 3/4 finished, set aside so I could complete The Crypt Artist, and I'm hoping to finish it by the end of the year. I know the end story for Glinhaven, it's just a matter of writing it and then undergoing the editing process yet again.
Glinhaven is not meant to be long and complicated, but rather my appreciative nod to the gothic fiction genre of novels I read during the 1970s and 1980s. The books gave me many hours of reading enjoyment, especially those written by Dorothy Daniels, Marilyn Harris and Marilyn Ross (aka Dan Curtis/Dark Shadows). Glinhaven is basically my attempt at the same, and I must admit I'm relishing every moment of the process.
After Glinhaven is complete, I plan to move on to Bloodlust, which is not quite halfway written at this point. Since it's predecessor Bloodfrost is scheduled for release later this year, I need to get myself in gear and finish the second part in the Bloodline Trilogy (by yours truly writing as Deidre Dalton).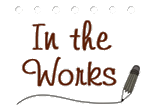 I've also had a few other projects on the backburner over the past year, which I hope to complete in 2020. These include Blood & Soul (part three in the Bloodline Trilogy), a historical essay about Lizzie Borden, the Luscious Leftovers Cookbook, and Native American Cuisine. There is also talks with my publisher about writing a ninth part to the Collective Obsessions Saga, and penning a sequel to Celtic Remnants. In addition, I would like to continue work on In the Shadow of the King. I began the book many years ago, and would dearly love to see it come to fruition.
I'm just hoping to find time for it all, alongside with living my personal life. It can be difficult to find the perfect equilibrium between writing and a happy home, but I'm doing my best. Writing often wins out, although I've tried to temper it somewhat over the past year in order to achieve a fair and equal balance for those who are near and dear to me.