Celtic Review & Video
Posted Sat, 11/02/19
I'm amazed by this great review of Celtic Remnants by Barbara Cerda at Good Reads.
Impressions

The event. The Bogside Massacre. Bloody Sunday. Derry Northern Ireland, 30 January 1972. One heartless moment of violence and subsequent retaliation against bigotry will last for generations. The emotional scars created in this day has lasted for generations. Eventually, the hatred tears the love between the son of an English Earl and a bonny Irish girl.

This novel is quite a read. A masterful weaving of a love story that nestles nicely within remnants of Upstairs Downstairs, Poldark, and finally Downtown Abby. To me, the author speaks grandly about how the post World Wars have altered the cultures of Britain and Ireland. Not a new story but one haunted by centuries-old hate and bigotry. Although not an easy read. I think Anglophiles will crush on the detail of this work that is memorable. Well crafted characterization may slow the reader's progress in the beginning. But the emotional force conveyed when the author seamlessly transitions from love scenes to heartbreaking moments is surprisingly memorable.

It is because of this author's incredible skill and grace in storytelling that it serves well in telling of Celtic culture and its brutal struggles to achieve autonomy under British rule.

"Place yer loyalty to yer own first, rather than the masses."

Story/Plot/Conflict

This is a love story that finds its beginnings with tragic remnants that scars the soul of a young Irish girl, robbing her of family and home. Part of a closely-knit Irish family, the child Ava Egan learns firsthand the brutality of the British military. Hatred spawned from unjust violence, murders, and civil unrest darkens the heart of Ava. Until years later, as a young woman, she meets and falls unexpectedly in love with David Lancaster, eldest son of a belted English Earl.

With a soul steeped in the old traditions of English nobility, David and friend Bart Quantrill unexpectedly find love with two Irish girls. Only to lose that love in the cruelest of ways. The chance meeting in a small Irish pub changes the hearts and lives of four people. While one is forced to throw away a love that strengthens his heart. And makes him question the morality within a world of privilege. Ava returns home to Ireland broken and filled with hate. Following family traditions, she chooses to fight to break the yoke of British rule that destroyed her life.

This author weaves a tale of how bigotry and complacence created a world of violence and tragedy. Yet within the dreadful throes of violent civil unrest, loves springs real and lasting.
Barbara also created a beautiful video about Celtic Remnants:
Celtic Remnants by Deborah O'Toole from Barbara Cerda on Vimeo
.

And much love and thanks to Terrie at Club Lighthouse Publishing for all of her efforts on my behalf.

Tags: Celtic Remnants
In the Midst
Posted Sun, 10/27/19
Bloodfrost was recently sent back to me by an editor at Club Lighthouse Publishing. Now it's my job to go through all the suggested corrections and agree or disagree. So far, I have to say, I have agreed with 99.9% of the suggestions.
I always love having a pair of fresh eyes on my work, as being in "edit mode" can often take away objectivity over time.
As a peek into the process, the following is a screenshot of the marked-up Microsoft Word document I'm currently poring over. Click on the image below to see its larger size in a new window.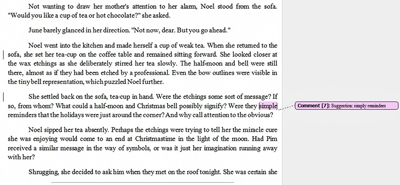 Much thanks goes to Terrie Balmer, Palvi Sharma and James Wasson at Club Lighthouse Publishing for their time and patience. They make an author's job a whole lot easier during all stages of writing a book, and my gratitude to them is boundless.
I'm hoping Bloodfrost (book #1 in the Bloodline Trilogy by me writing as Deidre Dalton) will be ready for release by the end of the year.
I'm keeping my fingers crossed.

Author Gab
Posted Sat, 10/26/19
A new interview with yours truly appeared at NF Reads in the middle of October.

For the interview, I discussed my books, writing inspiration, dealing with creative block, reviews, and advice to other writers, among other topics.
Ripper Read
Posted Wed, 10/16/19
In honor of Halloween, a full viewing of Jack the Ripper is now freely available. The article first appeared in the online edition of Ambermont Magazine some years ago when I was one of their staff writers. It is also available in e-book format from Amazon and Barnes & Noble.
"Jack the Ripper" can be read online in its entirety for free from now until October 31, 2019 > >

by Deborah O'Toole is an essay about serial killer Jack the Ripper, which includes information about the Whitechapel district of London, the victims, suspects, the investigation, press coverage in the day, resources, suggestions for further study, related films and links to current computer games inspired by Jack the Ripper. Start reading >
Enjoy - and Happy Halloween!
Tags: Book Promotions; Historical Essays
Joys of Reading
Posted Sat, 10/12/19
I love reading any time of day, but I seem to do it mostly at night after going to bed. Some nights I fall asleep after reading a few chapters, other times I can stay awake for at least an hour. I'm one of those people who can fall asleep at the drop of a hat, even after consuming a pot of coffee, so I consider myself lucky if I can keep my eyes open for an hour after hitting the hay.
My current book reading stack includes Anne Boleyn: A King's Obsession by Alison Weir, and No Cats Allowed by Miranda James, part seven in the "Cat in the Stacks" mystery series.
During a recent trip to Barnes & Noble, I also picked up two "classic" volumes that I can hopefully dip into before the holidays begin in earnest. One is Penny Dreadfuls: Sensational Tales of Terror, and the other is A Treasury of Irish Fairy and Folk Tales. Both books were released by Sterling Publishing/Barnes and Noble in 2014 and 2015, respectively, and are beautifully designed with thicker than usual paper, gold edges and individual ribbon place markers attached to the spines. Each volume contains classic stories by a multitude of different authors.
Book descriptions from Barnes & Noble:
Penny Dreadfuls: Sensational Tales of Terror: Body-snatching! Premature burial! Cannibalism! The original Victorian-era penny dreadfuls entertained the masses with shocks, thrills, and lurid horrors. This terror-packed anthology includes two novels—The String of Pearls, which immortalized Sweeney Todd, the demon-barber of Fleet Street; and the original 1918 edition of Frankenstein—as well as tales by Poe, Robert Louis Stevenson, Stoker, Alcott, and Conan Doyle.

: Collect more than 200 stories from the rich folk legacy of the Emerald Isle. Its pages are animated with colorful tales of the fairy folk in all their many guises: the changeling, the banshee, the headless dullahan, the leprechaun, the merrow, and the ever-mischievous pooka. In addition, this volume includes tales of ghosts, witches and fairy doctors, priests and saints, encounters with the devil, titans of Ireland's historical past, as well as popular treasure legends. A Treasury of Irish Fairy and Folk is one of Barnes & Noble's Collectible Editions classics. Each volume features authoritative texts by the world's greatest authors in an exquisitely designed bonded-leather binding, with distinctive gilt edging and a ribbon bookmark.
Another recent and marvelous find was the Secret of Bramble Hill by Sue Owens Wright. Sue happens to be a longtime acquaintance of mine, so it was a pleasure to read her work. Known for her Beanie and Cruiser Mysteries, Sue's take on gothic fiction with Secret of Bramble Hill was flawless in its execution. I thoroughly enjoyed the book from start to finish, and highly recommend it to anyone who fancies the original gothic genre.
And last, but not least, my next read will be Love's Legacy by T.L. Davison. I also know this author quite well as she also happens to be my editor/publisher (aka Terrie Balmer and Club Lighthouse Publishing). The blurb alone fascinates me: "In the year 1799 in Cornwall, England at Cardon Hall, four people are intertwined in a hopeless situation that ends in murder." I'm looking forward to reading Terrie's novel, just in time for Halloween.
As with most aspects of reading and writing, the old saying truly goes: "So many books, so little time!"
Happy reading indeed . . .

Tags: Books & Reading
Upcoming Works
Posted Fri, 10/11/19
Now that The Crypt Artist has been to bed, so to speak, I'm moving on to other projects that have been on the backburner for quite awhile.
So, what's next?
Not one to rest on my laurels, I'm back to work on Glinhaven. The novel is already about 3/4 finished, set aside so I could complete The Crypt Artist, and I'm hoping to finish it by the end of the year. I know the end story for Glinhaven, it's just a matter of writing it and then undergoing the editing process yet again.
Glinhaven is not meant to be long and complicated, but rather my appreciative nod to the gothic fiction genre of novels I read during the 1970s and 1980s. The books gave me many hours of reading enjoyment, especially those written by Dorothy Daniels, Marilyn Harris and Marilyn Ross (aka Dan Curtis/Dark Shadows). Glinhaven is basically my attempt at the same, and I must admit I'm relishing every moment of the process.
After Glinhaven is complete, I plan to move on to Bloodlust, which is not quite halfway written at this point. Since it's predecessor Bloodfrost is scheduled for release later this year, I need to get myself in gear and finish the second part in the Bloodline Trilogy (by yours truly writing as Deidre Dalton).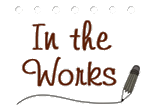 I've also had a few other projects on the backburner over the past year, which I hope to complete in 2020. These include Blood & Soul (part three in the Bloodline Trilogy), a historical essay about Lizzie Borden, the Luscious Leftovers Cookbook, and Native American Cuisine. There is also talks with my publisher about writing a ninth part to the Collective Obsessions Saga, and penning a sequel to Celtic Remnants. In addition, I would like to continue work on In the Shadow of the King. I began the book many years ago, and would dearly love to see it come to fruition.
I'm just hoping to find time for it all, alongside with living my personal life. It can be difficult to find the perfect equilibrium between writing and a happy home, but I'm doing my best. Writing often wins out, although I've tried to temper it somewhat over the past year in order to achieve a fair and equal balance for those who are near and dear to me.

Bloodline Continuance
Posted Wed, 10/09/19
The following came from a blog entry that was posted on February 24, 2012, my first mention of the Bloodline Trilogy (by me writing as Deidre Dalton). At that particular point in my time, the idea for the three stories was just formulating in my head, although I had already envisioned an ending. Hard to believe, but this was seven years ago.
You know my intentions are serious when I create a spreadsheet for a book or series of books. Putting together details about characters and places typically indicates a specific story is progressing beyond a mere notion and needs to be organized, at least in my case. Several months ago I began toying with ideas for a new trilogy written under my pseudonym Deidre Dalton. The stories have no relation to the Collective Obsessions Saga, and are in fact so far removed they will undoubtedly surprise a few people. In addition, the books will not be as lengthy.

I felt guilty at first because the new ideas took over and forced me to set aside work on Glinhaven. However, there comes a point in the life of an author when one cannot deny creative callings, no matter which direction they happen to travel.

While I'm not prepared to reveal much about the new trilogy at present, I can say the storylines for all three books are already mapped out in my head with a dramatic ending to boot. It's kind of amazing how inspiration works and produces a complete story in the noggin. For most writers, the flash of a "total package" is all-too infrequent. I've learned over the years to pay close attention to such happenings.

Never fear, Glinhaven is not forgotten. I also love that storyline with an ending already envisioned. It's just a matter of finding the time to write as well as modifying the "release" date.
But, as with all my other projects, it will be finished.
One way or another.

Bloodfrost, part one in the Bloodline Trilogy, was recently signed with Club Lighthouse Publishing and will be released near the end of 2019, or early next year. It's follow-up, Bloodlust, is well underway with almost half the book already written. While I'm sure this will come as old news for those of you who read my blog on a regular basis, the reason I'm drawing attention to it again is because of the "nature" of the second book in the trilogy.
Bloodlust contains certain elements that make me cringe during the writing of it, or even just thinking about it sometimes. While Bloodfrost inclines toward the paranormal to some degree, Bloodlust is just outright gory and twisted, menacing even, which is usually not my natural inclination when it comes to fiction writing.
The continuation of the storyline in Bloodlust takes a vastly different direction than the first part. This is not to say the characters or the writing style is any different, but the path veers to more violence and dark, unthinkable thoughts that become a reality in the second part of the trilogy. There are times I have trouble with it, not in the creation of the scenes, but in putting pen to paper to turn them into something I can live with.
I do not condone violence in any form in my everyday life, but sometimes fiction takes me places that I would not go otherwise.

Tags: Bloodline Trilogy
Crypt-A-Coming
Posted Mon, 10/07/19
After I finished editing The Crypt Artist earlier this month, I sent the manuscript to my publisher. Within a short time I heard back from her, a contract for the book attached to her return message. In other words, it's official.
To read the news announcement, click here.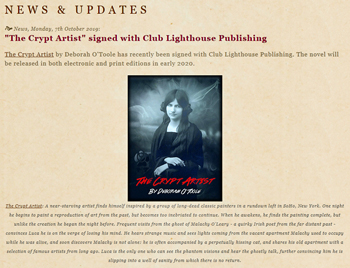 I'm supremely grateful to Terrie at Club Lighthouse Publishing for her friendship over the past nine years. She has given every one of my books a chance, something I never take for granted. I experience typical doubts about the content and quality of my stories on an ongoing basis, which is probably a natural reaction to one's own work, but she reassures me and guides me to the finish line every time.
The Crypt Artist will be released in e-book and paperback formats early next year. In the interim, I've also provided several excerpts from the book on my website.

*
Related Blog Posts:
Crypt-A-Coming
(10/07/19); Crypt Final
(10/06/19); Writing, Editing, Et Al (08/16/19);
Crypt Complete in th
e Great Outdoors
(08/11/19); Release Revisions (11/29/18); Crypt Writing (06/10/18).
Tags: The Crypt Artist
Crypt Final
Posted Sun, 10/06/19
While I finished the handwriting phase of The Crypt Artist in early August, the actual editing process which followed took about two months more. Over the years, I've developed my own method of approaching and carrying out the multiple edits. I'm not sure if my way follows any common guidelines per say, but I know it works for me.
After I finished typing my handwritten notes into the manuscript to complete the story, the document was printed. Armed with an ink pen and yellow highlighter, I parked myself on the couch for three days as I read through every word. It seemed to take forever, and produced errors - some small, some not so small - on almost every page. Typical errors can range from simple typos to a scene re-write for maintaining storyline consistency.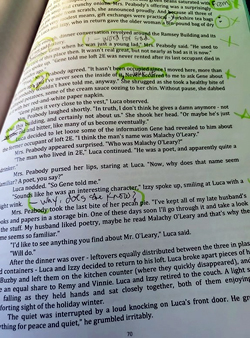 After making the corrections, the document was printed again and I did another focused read-through. The second edit was not nearly as difficult. It actually went much smoother, although it certainly wasn't error-free. One oddity was the increase in the word count, which went up by about 10,000 words. Editing usually involves the cutting of text rather than additions, so in this The Crypt Artist was unique once again.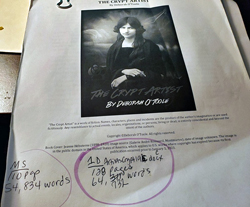 The third edit was more of a random check throughout the document, which I recently completed. The final word count for the book is 65,769. It increased by 10,935 words during the editing process.
The official website for The Crypt Artist is now online, and will be updated as news about the book becomes available.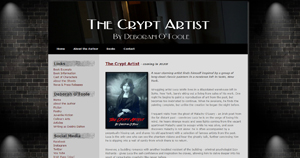 The Crypt Artist holds a special place in my heart for a variety of reasons, many of them personal. And even though I created the character of Malachy O'Leary, his demeanor and snappy repartee made me laugh on more than one occasion during the construction of the storyline, as did the testy grumblings of Howard Russell Butler. There were many late nights of writing where I would simply collapse with hysterics at the antics of my fictional characters. For more about the ghost characters in "The Crypt Artist," click here.
It's a good thing the people around me are so patient, for the most part understanding the writing process and giving me indulgences to do so at my own obsessive pace and style. You know who you are, and thank you.
Next up? I'm back to work on Glinhaven (hoping to finish before the end of the year as the book is 3/4 complete), with Bloodlust following a close second.

*
Related Blog Posts:
Crypt-A-Coming (10/07/19); Crypt Final
(10/06/19); Writing, Editing, Et Al (08/16/19);
Crypt Complete in th
e Great Outdoors
(08/11/19); Release Revisions (11/29/18); Crypt Writing (06/10/18).
Tags: The Crypt Artist; Photos & Other Images; Writing & Editing