March Madness
Posted Sat, 04/07/18
This about sums up the month of March 2018 for me:

Onward and upward . . .
Collective Poetry
Posted Sat, 02/24/18
Just after I finished writing Megan's Legacy in 2011, final book in the Collective Obsessions Saga, I penned a poem to act as an "intro" of sorts to the novels.
This was the final version: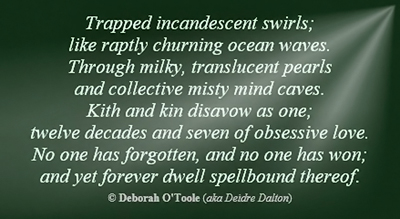 The same poem is also part of my collection Torn Bits & Pieces.
Tags: Collective Obsessions Saga
Bookstore Canines
Posted Fri, 02/23/18
This was surely make you smile: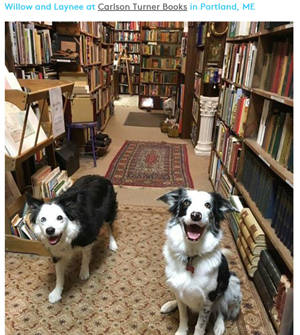 14 Adorable Bookstore Dogs to Brighten Your Day
Images and article come via Chronicle Books and Shelf Awareness.

Tags: Books & Reading
Review Writing & Design
Posted Tue, 02/06/18
I'm in the midst of writing a review for a book written into its present form in 2nd century CE. I wanted to find some "ancient" fonts to use in the design of the eventual web page the review will reside on, but as usual I went overboard. I finally decided in favor of "Ganesha" for the page logo and subsequent section headings.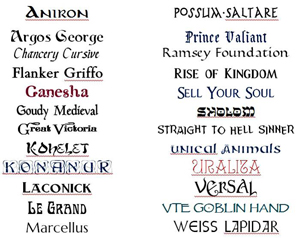 A sample screenshot of what the final outcome will be: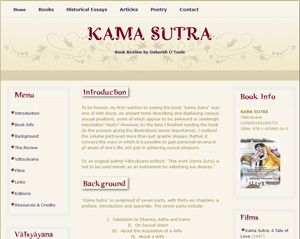 The book review will hopefully be available online by mid-March 2018.
*POSTSCRIPT (03/03/2018): The book review for Kama Sutra now online.

Tags: Web Design; Writing & Editing
Fave Twain Scene
Posted Fri, 01/26/18
One of my favorite scenes in The Twain Shall Meet (book #3 in the Collective Obsessions Saga by yours truly writing as Deidre Dalton) is where the main characters Shannon Larkin and Scott Page are taking tentative first steps in their relationship. I've inserted the particular scene into the excerpts PDF for The Twain Shall Meet, which is on page 26 of the revised document.
Here's a snippet I thoroughly enjoyed writing, as well as reading over and over again:

It was a cold day, but the sun was shining brightly. Scott slipped on a pair of dusky sunglasses as they sped along Larkin Highway into the city. If anything, the shades emphasized the high cheekbones and straight angles of his handsome face, a fact Shannon couldn't help but notice. "As do many women, I'm sure," she thought to herself rather waspishly.
As they came to the first stoplight on Main Street, Shannon became aware of people strolling along the boardwalk. A few of them paused to stare at her Gran Torino, but they weren't looking at her. A few women - young and older alike - were obviously trying to get a fix on who was driving her car. It was a man, clearly, his good looks not hidden one whit by the dark shades he wore.
Shannon chuckled under her breath. "And so it begins," she said with humor in her voice.
Scott glanced over at her. "What begins?"
She returned his glance. "The gossip mill has officially started. The people over there on the boardwalk are trying to get a good look at you. All they know at the moment is that you're with me and driving my car. By lunchtime, they'll have us married and expecting a baby - or vice-versa."
He looked to the boardwalk. "You're kidding, right?"
She sighed. "Welcome to life in a relatively small harbor town. While Larkin City is a wonderful place to live, one of the downsides is the local penchant for gossip, especially in regards to my family. They see you with me, and immediately assume we're an item. The worst of it will probably entail me summoning you from hell to be my demon lover at the haunted mansion we share with the rest of the devil-worshipping Larkin's, even though they know we're all baptized Catholics."
Scott laughed out loud, flashing his teeth. "It can't be that bad," he said, amused by her commentary. "Surely you're exaggerating?"
"You'll believe me by the end of the day, if not long before. Mark my words, and don't say I didn't warn you."
To read the entire scene, click here to open the PDF document and then go to page 26. Happy Reading!
Tags: Collective Obsessions Saga
Facebook Woes
Posted Sun, 01/14/18
Facebook suspended my "Deidre Dalton" account (which I'd had for 7 years) because I don't have valid ID in that name.
Rest assured, I'm a real person who is easily found online because of my books. "Deidre Dalton" is a writing pseudonym, common in my world.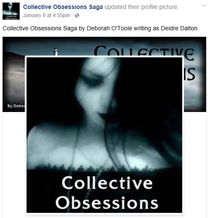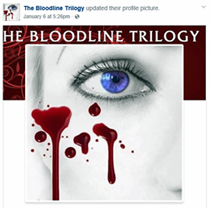 Anyway, I've added the books written as Deidre Dalton under my real name Deborah O'Toole (which also entails changing hundreds of links on various other websites). Click on the pictures above to go to their relevant Facebook pages.
What a royal pain!
*PS:
It finally dawned on me why my writing has suffered the last few months. I spend way too much time on Facebook.
:(
Tags:
Bloodline Trilogy
; Collective Obsessions Saga
Autumn Newsy
Posted Wed, 11/22/17
"The Twilight" in Print
Posted Sun, 10/29/17
The Twilight, 7th novel in the eight-part Collective Obsessions Saga, is now available in print.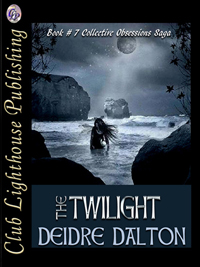 Shannon Larkin and Scott Page are happy in their long marriage, but a tragic loss forces her to delve into the past in order to face ugly truths about her husband. Devastated, she retreats into her own solitary world. A stranger brings Shannon out of self-imposed exile and shows her the beauty of unconditional love exists after all.
Please Note:

Let me qualify that The Twilight (named such about nineteen years ago), has absolutely nothing to do with vampires and the like, but rather the sunset years of a long relationship.

Enjoy!
Tags:
Collective Obsessions Saga
Hearts Cover History
Originally posted Wed, 02/27/13 - UPDATED Sat, 08/26/17
(upon release of the paperback edition of Hearts Desires).
This was the "working" cover for Hearts Desires for quite awhile, pre-book release: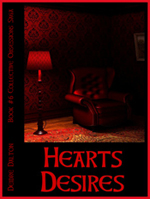 The red room was indicative of a bloody scene where Jack Sansovino rapes Jamie Page and then beats him to a near-pulp. The incident takes place in the bedroom of Jamie's cottage, a short distance from the Larkin mansion.
The second cover was rather vague, but I liked the design anyway: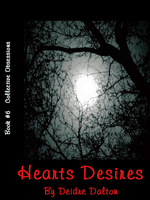 The third cover was a rendition of semi-main characters Brose Larkin and Bridget Gallagher in an embrace as they look out over Larkin City under a starry sky: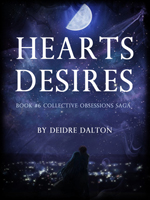 The fourth - and official e-book cover - for Hearts Desires was rendered by T.L. Davison, which features Jamie, Jack and Jamie's dog in frame: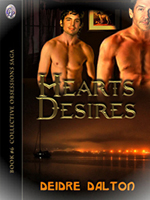 I was uneasy about having two bare-chested men on the cover at first. Not because the men happen to be gay, but suggestive nudity - even with women - is just not my cup of tea.
And the cover for the paperback edition of Hearts Desires: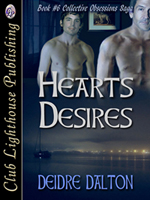 None of the books in the Collective Obsessions Saga are heavy on sex scenes. How many ways can one write romantic interludes for a connecting series of books that span 140 years? I tried to be creative as the storyline progressed, which sometimes resulted in violence or mild kinkiness, but the scenes are a backdrop rather than the focus.
However, I've come to appreciate the cover for Hearts Desires. Not so much for the men depicted, but for the inclusion of the dog in a framed picture behind them. The image threads into the final part of the saga (Megan's Legacy) in subtle fashion, which will only be realized by readers when they finish the last book.

Tags: Collective Obsessions Saga; Photos & Other Images
Recent Entries: