Meet Rainee Gabriella
Rainee Gabriella Alviso O'Toole is my oldest "daughter." She just happens to share a birthday with Kiki (March 31), although they were obviously born in different years (Rainee in 2004, and Kiki in 2006).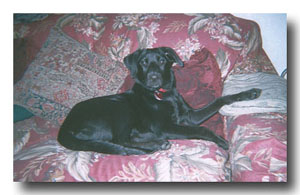 I found Rainee through the Spokane Humane Society, via PetFinder. I wanted to get a companion for my older dog, Foofer. One day in the spring of 2004, I happened to be browsing for puppies in my area when I caught sight of Rainee's picture. Her personality description read:
Rainee is a very adventurous girl and opinionated. She has a mind of her own. She loves to be held, but on her own terms. Rainee enjoys playing outdoors with her siblings. Tug-o-war and chasing the ball are a couple of her favorite activities.
I filled out the required adoption papers for her, and within a week I was holding little Rainee in my arms. Her first action was to urinate all over me, so I knew then and there she was coming home with me.
Rainee's nicknames: Ray-Ray, Lil' Ray, Rainer, Missy, Sweety-Pea, Twinkle Toes, Raindrop, Sidewinder, Tweeter, Her Royal Nibs and Girlie-Q.
Rainee's PetFinder description proved to be accurate. She has a stubborn streak a mile long. Nothing seems to daunt her, apart from the sound of wailing sirens and steep staircases.
Rainee now has her own web site called Rainee's Parade. The pages include a biography in words and pictures, and a selection of related links hand-picked by Rainee herself.
She also has pages at Dogster and Facebook: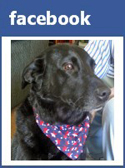 And don't forget to pay a visit to Rainee's Parade.