Weekly Roundup
Posted Sat, 09/01/12
Last week was rather quiet. I spent my birthday on Wednesday reading and watching television (Same Time, Next Year and several episodes of The Big Valley), and playing a new game. I then compensated for the relaxation by assembling five of my articles in e-book format.
The articles-into-ebooks (Historical Essays) came are from my Ambermont Magazine pieces, including Billy the Kid, Anne Boleyn, Loch Ness Monster, U.S. Political Parties and Jack the Ripper. The "essays" are available as research papers at Class Notes, and can now also be obtained in e-book format from Amazon and Barnes & Noble.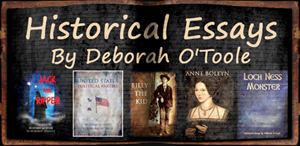 Gamey Stuff: The "new game" I played on-and-off on my birthday was Jane's Hotel: Family Hero. Description from Big Fish:
Want to be a fabulous entrepreneur? Expand a boutique hotel chain and provide 4-star service to guests. Help Jane purchase four International hotels, make upgrades, and pay off that large looming bank loan. In addition to the normal guest services, Jane can now help customers buy souvenirs and take pictures. Jane's Hotel: Family Hero is the hospitable sequel adding a brand new twist to time management and cafe simulation games.
The game has four hotel levels, including sand huts in the Canaries and a medieval castle in England, along with elegant spots in Japan and France. The screenshot displayed below comes from the medieval castle level (click on image to view larger size in a new window):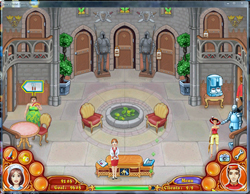 As I've mentioned before, I tend to choose time-management games as a way to relax. Jane's Hotel: Family Hero was a nice diversion.
Telly & Reading: In between reading The Forest by Edward Rutherfurd, I also watched Same Time, Next Year and later on half-paid attention to several episodes of The Big Valley. I'm not sure why I chose to watch the show as I typically don't like western TV serials (especially the old ones). What can I say? I find the late Peter Breck (aka Nick Barkley) to be good celluloid eye candy!
All in all, it was a nice way to spend my birthday.