Brief Detour
Posted Saturday, 08/22/20
I needed a break from Bloodlust for a few days, so I've been playing computer games and toying with front and back covers for yet another upcoming book.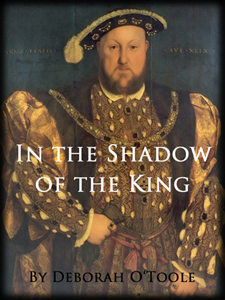 I hope to get back to In the Shadow of the King next year after the Bloodline Trilogy is complete, but it might be some time before I actually finish it (estimated completion around Christmas 2022), only because of the amount of historical research that will be required.
When last left off, I was sixty-seven pages into the story. In the Shadow of the King was created in Corel Word Perfect when I began writing it several years ago, which presents it's own set of unique problems today. I don't recommend opening a document in Microsoft Word that was originally created in Word Perfect. General formatting, ampersands, commas, apostrophes, inverted commas . . . anything other than the actual words come out a bit skewed. I'm mostly bothered by inverted commas. I prefer them to be straight up and down, not angled on a curve. I've since fixed all of the issues, so the book is ready to get back on track when the mood strikes me.
I'm also in the early stages of gathering new resource material. This involves obtaining historical documents and books (old and new), and poring over Letters and Papers, Foreign and Domestic, Henry VIII from British History Online. I'm basically looking for reference to Sir Francis Bryan in any context from multiple sources. While In the Shadow of the King is semi-fictional with the inclusion of characters from my imagination, I'm keen to get the history right.
Story description for In the Shadow of the King:
In the Shadow of the King by Deborah O'Toole is a fictional account of the dramatic life of Sir Francis Bryan, confidant to King Henry VIII.

Sir Francis Bryan was a knight bannerette, chevalier, diplomat, poet and translator, Lord of the Tor Bryan, chief gentleman of the privy chamber, Lord Chief Justice of Ireland and a gifted sportsman. He lost an eye during a jousting tournament and forever after wore a rakish eye patch, which merely added to his allure.

During his time in Henry VIII's court and one of the few who escaped the King's wrath, Sir Francis Bryan was dubbed the "Vicar of Hell" by the King's chief minister, Thomas Cromwell, because of his apparent lack of scruples and legendary sexual exploits.

In the Shadow of the King brings to life the story of Sir Francis Bryan, as told by one of his descendants in the twenty-first century.

ESTIMATED RELEASE: Christmas 2022. Storyline and estimated release date may be subject to change. Check back for updates.
To read a sample from the book, click here.
*Gamey Stuff*
I've long been a fan of games from Mystery Case Files. All of them are mostly hidden object games with a dark theme. The new release is The Harbinger, and I must say I'm thoroughly enjoying it.

The Harbinger description from Big Fish Games:
At first, it wasn't clear why the Master Detective was called in to investigate a simple, small-town murder case . . . until the investigation reveals a string of strange references and familiar names from the agency's past. What secrets lie behind the murder, and who, or what is so intent on bringing up the past? You'll need superior searching skills, and all your puzzle-solving know-how to peel back the layers of this mystery. All of the shocking answers await you in this intriguing new chapter in the classic Hidden-Object Puzzle Adventure series!
There are more than twenty additional gams in the series, and I highly recommend them all. Each one contains lush, intense graphics and you can adjust the game difficulty level as you play.
Give them a whirl!

Related Post: Shadow Work (07/01/12).
Tags: Games; In the Shadow of the King; Writing