Another Bit of Research
Posted Thursday, 08/11/22
Since Sir Francis Bryan was alive two years into Edward VI's reign (following the death of Edward's father, Henry VIII, in 1547), I recently obtained Edward VI: The Lost King of England by Chris Skidmore for research purposes for In the Shadow of the King. Jerry was thrilled by the arrival of yet another book in the mail. ;)
So far, Edward VI: The Lost King of England has been a fascinating read. While it makes no mention of Sir Francis Bryan, it does briefly reference his mother, Lady Margaret Bryan, who was governess to not only Edward VI but to his two half-sisters as well: Mary and Elizabeth.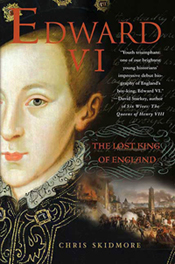 I wanted to source the general atmosphere of the times as Francis Bryan neared the end of his life, and Edward VI: The Lost King of England provided me with it.
While Edward VI was king, Francis Bryan was created Knight Banneret (1547). He was also appointed Lord Marshal of Ireland (1548) and Lord Chief Justice of Ireland (1549).
In addition, Bryan entered into an "arranged" marriage with Joan Fitzgerald Butler, widow of James Butler (Earl of Ormonde), daughter of James Fitzgerald, 10th Earl of Desmond, in August 1548. The marital union brought him money and control of land in Ireland.
Sir Francis Bryan died in Clonmel, Ireland on February 2, 1550, allegedly at table after a bout of heavy drinking. Because Joan Butler's first husband had died mysteriously (with hints of poison), Bryan's death was suspect but could not be proven.
Is it any wonder I find Tudor history fascinating?