Kingly Research
Posted Saturday, 03/12/22
When there is a lull in the day job, I do research for In the Shadow of the King. Again, my life is often guided by sticky notes. Orange pinpoints direct mention of Sir Francis Bryan, while the pink-purple sticky notes refer to pertinent events, structure descriptions, kitchen routines (massive in Henry VIII's court), tidbits about hygiene, and a host of other related content that will hopefully bring authenticity to the storyline.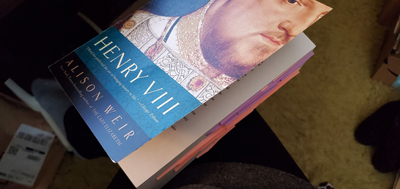 I have more than three dozen books on the subject. They range from topics such as disease in Tudor times (Medical Downfall of the Tudors: Sex, Reproduction & Succession by Sylvia Barbara Soberton), relationships (Henry VII and the Men Who Made Him by Tracy Borman, Among the Wolves at Court: The Untold Story of Thomas and George Boleyn and Inside the Tudor Court: Henry VIII and His Six Wives Through the Eyes of the Spanish Ambassador by Lauren Mackay, Debrett's Peerage of England, Scotland, and Ireland; Revised, Corrected and Continued by G.W. Collen), peripherals (Household Servants in Early Modern England by R. Richardson), royal specific (Henry VIII: The King and His Court by Alison Weir, The Private Lives of the Tudors: Uncovering the Secrets of Britain's Greatest Dynasty by Tracy Borman, The Six Wives of Henry VIII by Alison Weir, The Tudors: The Complete Story of England's Most Notorious Dynasty by G.J. Meyer, Tudor: Passion. Manipulation. Murder. The Story of England's Most Notorious Royal Family by Leanda de Lisle), food (A Tudor Christmas by Alison Weir and Siobhan Clarke, All the King's Cooks: The Tudor Kitchens of King Henry VIII at Hampton Court Palace by Peter Brears, Food and Feast in Tudor England by Alison Sim, The Tudor Kitchen: What the Tudors Ate & Drank by Terry Breverton), and many more.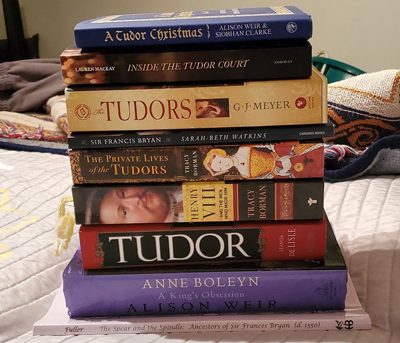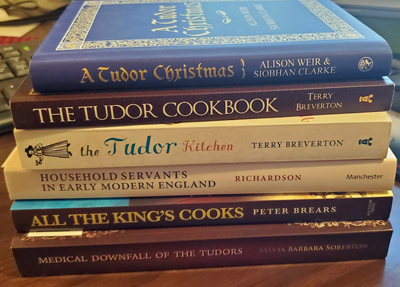 This is just the tip of the research iceberg . . .
DID YOU KNOW?

Did you know what people ate at the royal court was based on their rank? Those of the noble class enjoyed beef, mutton, veal, capons, pheasants, lamb, and chicken to be followed by tarts, butter and fruit; while servants were only allowed cheaper cuts of meat and pottage (meat stock thickened with oatmeal or barley seasoned with herbs, salt and vegetables). Or that some of Henry VIII's favorite foods - aside from the myth of a drumstick-wielding monarch - included various fruits, such as apples, damsons, cherries, peaches, plums and strawberries? He was also particularly fond of a dish known as Cream of Almonds.

Did you know Henry VIII was an extremely fastidious man? He was obsessed with cleanliness. During his time, a system was put into place to provide running water to the bathrooms at Hampton Court, which was a series of pipes and drains leading from a spring three miles away. A similar conduit system was also available at Greenwich, Whitehall and St. James Palace, among many others.

Did you know, despite his charm, that Sir Francis Bryan was conniving, duplicitous and promiscuous? Francis moved along with prevailing forces in order to keep the King's favor, even when he disagreed with Henry VIII. Francis knew the rules of court, thanks to his parents. He was aware that offending Henry could bring a swift end to his favor. It would become a balancing act in the ensuing years as Francis danced attendance on the King, bending the way of the wind when the need arose.

Did you know that Sir Francis Bryan lost an eye during a joust at Greenwich Palace on February 7, 1526? He forever after wore a rakish eye patch, which merely seemed to add to his allure.
Part of the "research" also includes developing a spreadsheet of characters and locations (ongoing and constant), which allows me to verify consistency in descriptions, life events and general history. The book also has its own website now, a sure sign for me that it will go full-steam ahead. The research and writing of In the Shadow of the King is going to be a long haul, but I'm enjoying every second of it - even when doubts surface.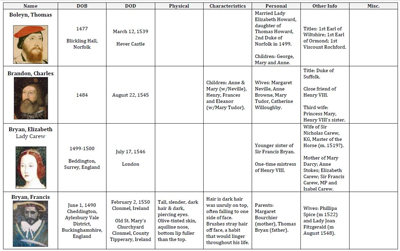 In the early stages of every book I've ever written (16 published novels so far), I always ask myself: "Can I do this? Or is it all just crap?" When the storyline is rough at the start, or becomes complicated as it progresses, I find myself questioning my ability to pull it off. However, I recognize the doubts are merely part of a phase, and I eventually get past them.
Hopefully, the same will apply with In the Shadow of the King.