Collective Obsessions Saga
Deborah O'Toole also writes under the pseudonym Deidre Dalton.
She is author of the Collective Obsessions Saga, which chronicles the extraordinary loves and obsessions between two families sweeping a span of more than 140 years, all set against the backdrop of a Gothic seaside mansion in Maine.
Follow the twists and turns of the Larkin and Sullivan families, who settle in America in the mid-1800s. John Larkin builds his vast business empire while daughter Molly and lighthouse keeper Colm Sullivan establish a connection that will endure for generations.

Amidst murder, madness, perverse self-indulgence and avarice the two families struggle to free themselves from a dark legacy of secrets and obsessions.

Years in the making, Collective Obsessions is a unique family saga set in the combined genres of mystery, the paranormal, historical romance, and dotted with a touch of the macabre and hints of classic Gothicism.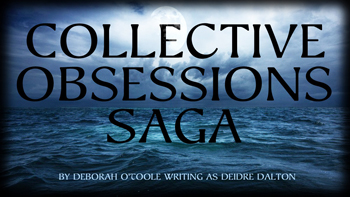 The family saga includes The Advent, Quixotic Crossings, The Twain Shall Meet, Enthrallment, The Keeper's Journal, Hearts Desires, The Twilight and Megan's Legacy.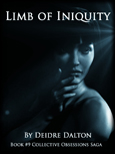 All eight titles in the Collective Obsessions Saga were released by Club Lighthouse Publishing.
Book #9, Limb of Iniquity, is scheduled for release in 2023-24.
For more, visit Deidre Dalton's website.