Gliding through Glinhaven
Posted Monday, 12/16/19
Glinhaven is complete (as of yesterday), so this is how my time will be spent for the next few weeks or so.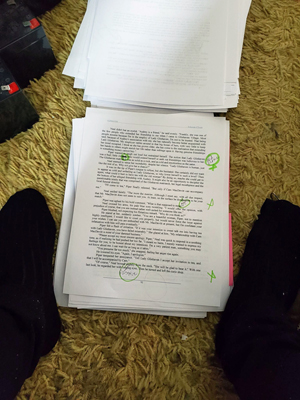 I've no space to put the manuscript on a table, so I lay it out on the floor next to my computer as I edit.
Am I happy with Glinhaven at this point? As with any other time I finish writing a book, my answer would be no. There are various points in the story I either need to expand or detract, so it will be a matter of making changes as the editing process gets underway.
Lucky for me, Glinhaven was nearly complete when I put it aside last year in order to finish The Crypt Artist. It took me about a week to familiarize myself with Glinhaven once I picked it up again, but it was soon full-steam ahead. I'm predicting a complete finish by year-end. In the interim, I'm keeping my fingers crossed.
There will also be a few extras once the book is complete, such as documents highlighting monks and Scottish Fold cats, which are present in the fictional storyline. In addition, there is a cookbook of sorts in the works, based on recipes mentioned or prepared by fictional characters in the novel. The documents aren't available yet, but to see what's coming click on the screenshots below.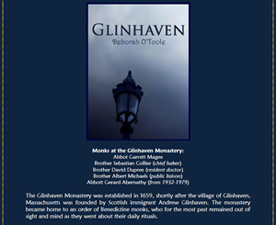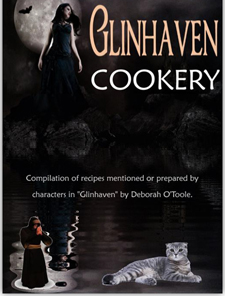 A new cover has also been designed for Glinhaven. I recently put up a picture comparing the old and new book covers on my Facebook page, and the new cover received an overwhelming 100% of the vote. A back cover has also been designed.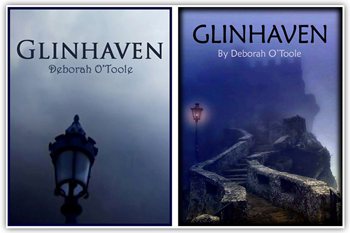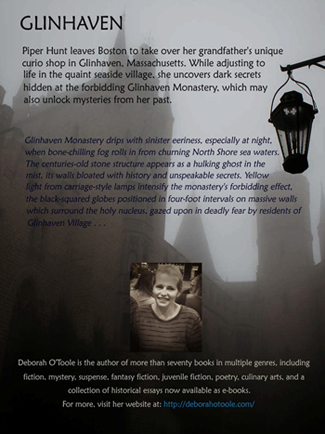 In addition, I'm putting the final touches on an "official" website for Glinhaven, which should be complete by the end of the year as well.
Meanwhile, the following comes from the dedication page in the book:
"Glinhaven" is dedicated to my favorite gothic authors, who in part inspired the story that unfolds in the following pages: Dorothy Daniels, Marilyn Ross (aka Dan Curtis), Marilyn Harris, Victoria Holt and Phyllis Whitney. Thank you for the many hours of reading enjoyment when I was in my teens and early 20s, and for inspiring me to do the same for others.
As I've said before, Glinhaven is my ode to the gothic fiction genre (as it was called back in the day). Gothic fiction novels were the staple of my teen years. I read everything ever written by Dorothy Daniels and Marilyn Ross specifically, with smatterings of Marilyn Harris, Victoria Holt and Phyllis Whitney. Even more specific, the series of thirty-two Dark Shadows paperback novels by Marilyn Ross (aka Dan Curtis) were my favorites. Back in "the day" the books were known as Gothic fiction novels, all of them containing mystery, the appearance of phantoms and happy endings. The Ross and Daniels titles are simple pleasures I used to enjoy as a late teen and early-twenty-something, but I still find them quaint and entertaining.
There are no explicit sex scenes in Glinhaven, which is par for the course in most traditional gothic novels. However, innuendo is present when it needs to be. I actually enjoyed writing without the pressure of adding detailed sexual interaction. My writing focus has never been on sex scenes, but I've undertaken them in other books when the storyline calls out for it.
Glinhaven is a one-off. It's basically my tribute to the gothic paperback genre in one fell swoop. The book is not long and complex like some of my other work, especially Celtic Remnants and the Collective Obsessions Saga, but I think it's a nod in the right direction.

Tags: Glinhaven; Writing & Editing