Winter Newsletter
Posted Sunday, 12/12/21
As we come into the holiday season, I have much to be thankful for. This is not just a metaphor to spread cheer, but rather an example of real-life circumstances giving me the opportunity to feel the grateful spirit in truth.
Last summer was long and hot. I began to feel off-kilter in mid-to-late August, my focus all but disappearing and my energy level reaching an all-time low. I blamed my symptoms on the heat, which was inescapable. I lost all interest in writing, reading, and everything else in general. As time went on, I slept more and ate less, hardly a fit recipe for healthy living. My fingers and toes were always cold, turning purplish on occasion. It wasn't until November that I finally went to the doctor, who ordered a battery of blood tests to get to the bottom of my malaise.
Thus begins my winter newsletter, which is now available online, and also as a PDF download.
Here are some highlights from the newsletter: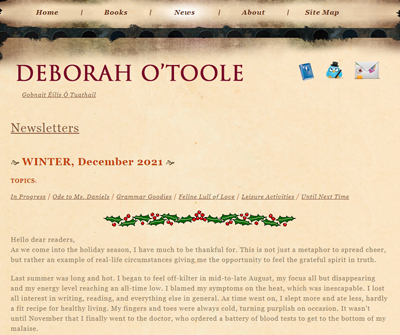 ~ In Progress ~
Needless to say, my writing suffered during the three-month span of aforementioned dicey health. I now find myself with a renewed energy and focus, which I welcome back with open arms. However, because of the lull, I've been forced to push back the release dates of both Blood & Soul and In the Shadow of the King, along with a few other projects.
I did manage to put the finishing touches on a possible back cover for Blood & Soul.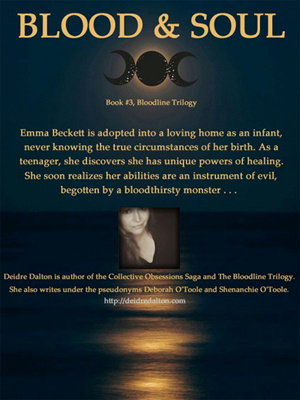 The eerie, triple moon imagery is perfect for the storyline. The three women depicted in the Bloodline Trilogy - Noel, Kate and Emma - finally reach an acceptance about their unique gifts, and appreciate (but sometimes loathe) the people who have impacted them along the way. They leave the final storyline filled with hopeful inklings for the future.
I'm anxious to finish the novel as it completes the Bloodline Trilogy, once and for all. I began writing Book #1 Bloodfrost in 2012, although it wasn't published until 2019. There were large gaps in the process as I finished other projects in the works (Celtic Remnants, Glinhaven, Mind Sweeper and The Crypt Artist).
Book #2 Bloodlust is the longest novel in the series (531 pages), taking me about three years to complete before it was published in early 2021. I think it will be fitting to see Book #3 Blood & Soul released in 2022, marking a decade since I envisioned and began writing the trilogy in the first place.
As per my usual notation, storylines, estimated release dates and book cover designs may be subject to change.
~ Until Next Time ~
Another newsletter will be coming in late spring/early summer 2022.
And until next time, happy reading . . .
To read the Winter 2021 newsletter in full, click here.

Tags: Writing & Editing