"The Twilight" in Print
Posted Sun, 10/29/17
The Twilight, 7th novel in the eight-part Collective Obsessions Saga, is now available in print.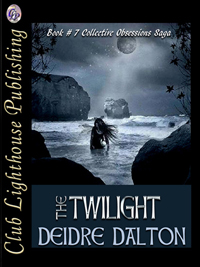 Shannon Larkin and Scott Page are happy in their long marriage, but a tragic loss forces her to delve into the past in order to face ugly truths about her husband. Devastated, she retreats into her own solitary world. A stranger brings Shannon out of self-imposed exile and shows her the beauty of unconditional love exists after all.
Please Note: Let me qualify that The Twilight (named such about nineteen years ago), has absolutely nothing to do with vampires and the like, but rather the sunset years of a long relationship.
Enjoy!