Ripper Preview
Posted Tue, 10/11/15
In honor of Halloween, a full preview of Jack the Ripper is now available. The essay can be read online in its entirety until October 31, 2015.
Jack the Ripper by yours truly is an essay about the serial killer, including information about the Whitechapel district of London, victims, suspects, the investigation, press coverage in the day, resources, suggestions for further study and related films.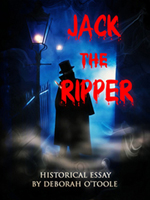 Jack the Ripper is part of my Historical Essays collection of e-books. Read the free preview >
Enjoy - and Happy Halloween!

Tags: Book Promotions; Historical Essays