Light at the End of the Tunnel
Posted Thursday, 08/13/20
I've estimated that I'll cross the writing finish line for Bloodlust in about a month, or near the end of September. The largest binder clip no longer holds the document together, so now I'm using a rubber band to keep it intact. The book will be more than 400 pages long, so the editing process might take a few weeks as well.
By "editing," I mean reading through the entire book several times before I even send it to my publisher. This includes making a print copy so I can scrutinize it page by page and mark any changes. Then my editor at Club Lighthouse Publishing (Palvi Sharma) will go though the entire book and probably offer even more suggested edits.
To that end, I've pre-armed myself with the typical "tools" that I use during the editing process: sticky notes, highlighters, pens and more pens (can never have enough of those!), and extra notebooks in case a major re-write is needed (hopefully not) or if new scenes need to be added.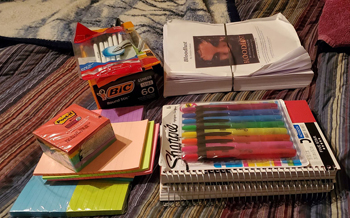 God give me strength, and wish me luck!