Summer Doings
Posted Wednesday, 08/12/20
As the seemingly endless lockdown continues through the unbearable heat of summer, I've devised other ways to keep myself occupied on the rare occasion when I'm not writing.
I've caught-up on several of my old favorite television programs for free on Tubi, including Dark Shadows, Robin of Sherwood and The Dead Zone.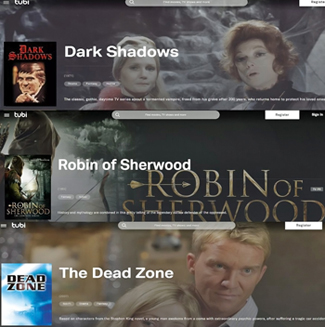 In addition, a family of ducks began visiting us more than a month ago. The mother is an albino with six ducklings, all of them ravenous at any given time. They love bread, of course, but we're trying to feed them healthier fare, such as kibble and dried corn. But they do love their bread! They usually come by at least three times daily, once in the morning, the late afternoon and early evening, coming out of the canal for their tasty snacks.
Reading is an ongoing activity for me, and always has been. My current stack contains The Tudors by G.J. Meyer, The Fiery Cross by Diana Gabaldon (#5 in the Outlander series), and Say Nothing (A True Story of Murder and Memory in Northern Ireland) by Patrick Radden Keefe. I never leave a bookstore empty-handed, and I'm especially partial to collecting different bookmarks.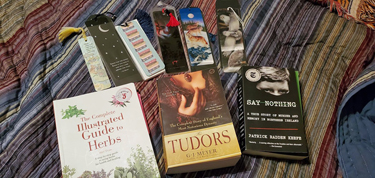 Jerry has a habit of rearranging my stuffed animals into a variety of positions, providing a display - usually the current even more bizarre than the last - every time I walk into the computer room. Once, I came upon the stuffed animals playing cards, another time they were surrounding an empty bottle of whisky. Other occurrences included the group watching the iPad, draped over the TV in the bedroom, perched on my computer before I start my day, wearing face masks, riding in the back seat of the truck, or staring at the camera wearing sunglasses. Click on images to view larger size in a new window.
Jerry makes me laugh, each and every day.
And, depending on her mood, Hissy might keep me company during the day, sleeping atop Kiki's favorite blanket. I once found her on the couch with a bottle of whisky and a pack of cigarettes.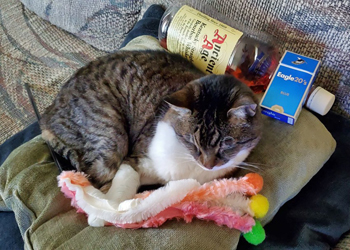 Summer is my least favorite time of the year. I'm so longing for the coolness of autumn, and the changes of color during the season.
I should be finished with Bloodlust by then, too. ;)

Tags: Photos & Other Images