Character Seeds
Posted Saturday, 05/14/22
I've recently been fleshing-out some of the new characters that will make their way into Limb of Iniquity, which will be book #9 of the Collective Obsessions Saga.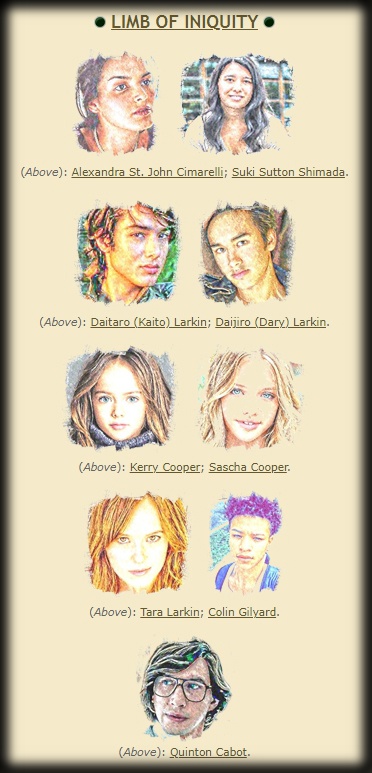 Perhaps two of the most interesting new characters include Suki Sutton Shimada and Quinton Cabot. Each one, in their own way, abet Alexandra St. John (aka Alexandra Cimarelli) on her nefarious mission to destroy Shannon Larkin.
I'm a very "visual" writer, so having image depictions of characters inspires me more than anything else.

Suki is technically the professional boss of Alex and Quinton (whom Alex calls "Quint"). They work for her fashion design company, developing perfumes for a famously growing catalogue. Suki is somewhat formal with most of her employees, but she takes a great liking to Alex. The two women become close friends, even sharing a bed together on occasion.

Quinton Cabot was born Quinton Edward Cabot unto Adam and Lacey Cabot in New York City.
Lacey Astor Cabot inherited family money from her mother, while Adam developed a career as a software engineer. Quinton attended New York University, where he received a BA in chemical engineering. He began working for Suki as a perfumer shortly afterward, not meeting Alexandra Cimarelli until she joined the design firm in 2018.
Quinton and Alex develop a close friendship rather quickly, spending copious amounts of time together as they concoct perfumes for Suki Sutton Shimada. In time, Quinton becomes obsessed with Alex and is prepared to do anything for her.
Lacey Cabot does not like Alexandra at first, feeling she was well beneath her son in the social and financial pecking order of society. However, when Lacey learns Alex is connected to the wealthy Larkin family of Maine, she changes her tune and welcomes the girl with open arms. She buries her feelings of dislike, sensing Alex is not what she really appears to be: sweet and innocent on the outside, but perhaps not so much on the inside.
See more characters from the Collective Obsessions Saga >
More to come . . .