Revisiting Substance
Posted Friday, 04/29/22
Every five years or so, I re-read A Woman of Substance by Barbara Taylor Bradford. I still have the first copy I bought of the book, which was acquired in the early 1980s when Jerry and I were married (hence "Debby Dalton" written on the last page).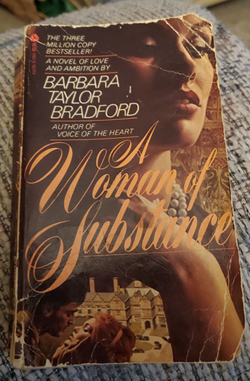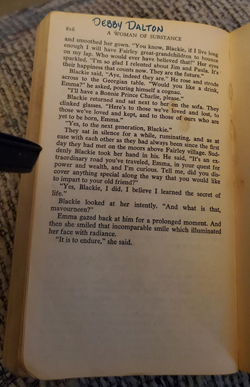 My review of the novel, written many years ago:
Book Review by Deborah O'Toole:

"A WOMAN OF SUBSTANCE"

Never has a book inspired so much emotional feeling and admiration for basic human determination. I know this sounds a bit exaggerated, but it's true. A Woman of Substance by Barbara Taylor Bradford is one of those rare books that hold the reader spellbound in amazement. While fictional, the premise of the book is quite possible. A young girl named Emma Harte rises from the ashes of poverty and becomes one of the richest and most powerful businesswomen in the world. The people who took advantage of her, or abused her as a child, are paid back with all the cold vengeance Emma came to possess as she grew more powerful.

Bradford's writing is exceptional and follows the twists and turns of her character with fascinating detail. For women readers especially, the book makes one feel that anything is possible. You can be as low as you can possibly be at some point in your life, but eventually you can find a way out and realize your dreams.

A Woman of Substance is rich in detail, dialog and dramatic scenes. You feel as if you are really there with Emma, through every low and high point in her life. Her will and determination to succeed will spurn you on from one chapter to the next, filling you with amazement as you go. Emma Harte's dreams come to fruition, making her the epitome of A Woman of Substance.

A Woman of Substance is a perfect example of personal courage, determination, ambition and success. You won't want this book to end, even when it does. The only consolation is the anticipation of reading the sequels: Hold The Dream, To Be The Best, Emma's Secret, Unexpected Blessings, Just Rewards, Breaking the Rules and A Man of Honor.

I re-read A Woman of Substance every few years, and enjoy it immensely each time. It is truly a testament to the extraordinary writing skills of Barbara Taylor Bradford.
A Woman of Substance is still one of my favorites, alongside Trinity by Leon Uris and Bledding Sorrow by Marilyn Harris.
In my mind, they never get old.

Tags: Books & Reading