Book Collecting
Posted Tuesday, 04/28/20
One of my lifelong enjoyable habits is the collection of books, especially those belonging to a particular author or series.
I have nearly every single Stephen King novel available to mankind, along with most all titles by Evelyn Anthony, Maeve Binchy, Barbara Taylor Bradford, Elizabeth Byrd, James Clavell, Cleo Coyle, Dorothy Daniels, Diane Mott Davidson, Charles Dickens, Stephen R. Donaldson, Miranda James, Rosamond du Jardin, Ken Follett, Marilyn Harris, Susan Kay, Mary Pat Kelly, Norah Lofts, George R.R. Martin, Colleen McCullough, Stephenie Meyer, Carol J. Perry, Edgar Allan Poe, Rosemary Rogers, Barbara Ross, Marilyn Ross, J.K. Rowling, Edward Rutherfurd, Bertrice Small, J.R.R. Tolkien, Leon Uris, Alison Weir, Oscar Wilde and Kathleen Woodiwiss, among many others.
My recent quest is to obtain all titles in the Dark Shadows series of gothic novel by Marilyn Ross (aka Dan Curtis) and Nancy Drew by Carolyn Keene. I used to have all the books, but because of my many moves over the years, I lost many of them. And so I begin again.
I've found one of the best resources for acquiring older novels (some of which are out-of-print) is Abe Books/Applewood Books for the Nancy Drew series, and Hermes Press for their current and ongoing re-printing of all thirty-two Dark Shadows books.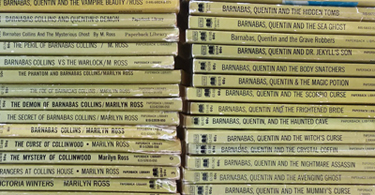 Above: Array of Dark Shadows titles re-printed by Hermes Press. Image copyright: Collinsport Historical Society. Click on image to view larger size in a new window.
The reincarnation of old book covers from the Nancy Drew novels fascinates me. Keep in mind the first book in the series was published in 1930. The covers reflect the time period in which they were written, including the style of clothing worn by Nancy herself and the blue roadster she drove.

Above: Array of Nancy Drew titles re-printed by Applewood Press. Image copyright: Worthpoint. Click on image to view larger size in a new window.
I'm having a blast receiving the books, and it's time well-spent as the current lockdown at home continues. It's also a pleasure re-reading some of the novels to fill the day, which I alternate with writing for Bloodlust.
It's pure bliss.

Tags: Books & Reading