Spring Newsletter
Posted Wednesday, 04/15/20
Being a writer is isolating in itself, for the most part. However, the recent COVID-19 virus scare has made the isolation seem all too genuine, removing the self-imposed structure of my days in real time. Whether I want it or not, it is a simple fact of life for now. While I'm accustomed to solitude because of writing, having it enforced is a different kettle of fish. There is no avenue of escape, no sudden decision to head out the door on a whim.
Thus begins my spring newsletter, which is now available online, and also as a PDF download.
Here are some highlights from the newsletter: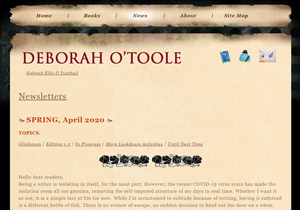 ~ Glinhaven ~
Glinhaven was released by Club Lighthouse Publishing on April 8, 2020. The novel is available in multiple e-book formats from Club Lighthouse, and in both Kindle and paperback editions from Amazon.
I'm thrilled with the release of Glinhaven for a few reasons. First, I love the storyline and the characters within. Second, I'm inexorably drawn to the book cover. It is haunting and unique, much as the story itself is. And last, but not least, I'm happy with the writing style of the novel. As I've said many times before, Glinhaven is my ode to the gothic fiction genre.
Hopefully, I was able to do it justice. More >
During the lengthy lockdown, I've managed to keep myself busy cooking, reading, writing, playing games, doing needlepoint and watching episodes of the old Dark Shadows television series on Tubi from my iPad. It helps pass the time during frequent lulls, and when the daily grind becomes akin to sheer boredom.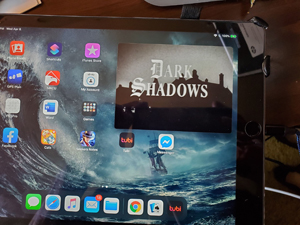 In my younger days I used to needlepoint with regularity, but not so much in recent years. I was never much of a "crafty" person and wasn't really talented in that area, yet I enjoyed the process. It felt soothing after a long day. However, I picked up the habit again a few months ago and now have four different projects in the works.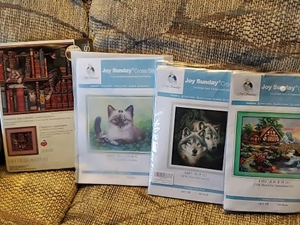 As for reading, over the space of the last few weeks I read through all of my books in print (Bloodfrost, Celtic Remnants and all eight novels in the Collective Obsessions Saga). It was quite entertaining, and I enjoyed every minute of it. I also began re-reading the Dark Shadows novels by Marilyn Ross (aka Dan Curtis), which were originally published between 1966 and 1972. All thirty-two books in the series are being re-issued by Hermes Press, so I have started to collect and read them again. I'm also toying with acquiring the many titles in the Nancy Drew series by Carolyn Keene, but have made no moves in that direction as of yet. I loved the books as a teen and twenty-something. Despite their simplicity and wholesomeness, the books are cleverly well-written and enjoyable to read.
And just recently, Jerry and I spent a Saturday in Delle, Utah, where we rode the ATVs for a few hours. It was a breath of fresh air to get out of the house and to roam open spaces. We came across groups of black cows who were grazing peacefully, but eyeing us with wariness. The baby calves running about were a delight to watch, taking off like shots when we drove by. It was a much-needed respite from the abnormal ordinary awaiting us back home. More >
~ Until Next Time ~
Another newsletter will be coming your way in late autumn/early winter 2020, so keep your eyes peeled.
Meanwhile, visit my website, Facebook and Twitter pages for updates, or go to my blog Irish Eyes to view recent posts.
And until next time, happy reading . . . More >

Tags: Glinhaven