In the Works & Play Time
Posted Sunday, 02/27/22
I don't know how to relax, although I often long for it. I'm already lining up my next projects, despite having just finished Blood & Soul.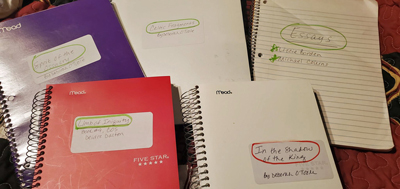 From left to right, back row: "Spirit of the Ossuary" (sequel to The Crypt Artist), "Celtic Fragments" (sequel to Celtic Remnants), and two historical essays I'm working on (bits about Lizzie Borden and Michael Collins). From left to right, front row: Limb of Iniquity (Book #9 in the Collective Obsessions Saga), and In the Shadow of the King (which will be a semi-fictional account of the relationship between Henry VIII and one of his courtiers, Sir Francis Bryan).
For more, visit In the Works on my website.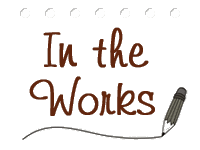 Maybe I'll be able to rest in a decade or so, when I'll be ready for the old folk's home. ;)
However, for most of yesterday I was free from any sort of stress when I became addicted to a new computer game. Description of Ellie's Farm: Forest Fires from Big Fish:
When life gets you down, a writer like you needs a change of scenery! The Northern Woods are the perfect place for a new start with peace, quiet, and beautiful views.

But your new home has faced plenty of its own challenges recently. From increasing forest fires, local wildlife falling sick, and a mismanaged economy in decline, there's plenty for a newcomer like you to help with. Can you work with new friends to restore the Northern Woods to their former glory and build the home of your dreams? It's time to find out!
Ellie's Farm: Forest Fires is a time management game, which is right up my alley. I found it relaxing and challenging at the same time.
It was a nice break before throwing myself back into writing.

Tags: Games; Writing & Editing