Holiday Nods
Posted Wednesday, 12/19/18
Every year, I put together a digital holiday greeting which I send to family and friends (via a post on Facebook). I always include my "kids" (pets). This year was bittersweet as it's the first time in more than a decade that Kiki was not included.
From me and Rainee Gabriella O'Toole (click on image to view larger size in a new window):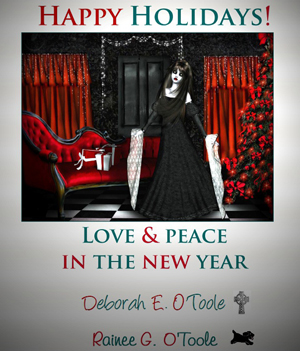 Happy Christmas to one and all, or however you may say it: Joyeux Noel, Merii Kurisumasu, Milad Majid, Feliz Navidad, Hristos Razdajetsja, or Nollaig Shona dhuit.
And best wishes for the New Year.