Social Media Et Al
Posted Saturday, 12/15/18
I joined Facebook a decade ago, in November 2008. I have a page just for author-related business, and another for personal interaction. For the most part, the venture has been quite agreeable. Apart from scores of encounters with scammers (more on that later), the experience has been a good one as I remain connected to family members and friends, as well as those who enjoy reading my books.
After Facebook came Twitter (where I post or re-tweet mainly political mumbo nowadays), along with Google+, Pinterest and You Tube. While all very useful in their own way, the main attraction for various social media platforms appears to be the "freeness" of it all. None of the above mentioned costs a dime to join and use.
About a week ago, I created an account at Instagram. I'm late in joining this particular social platform, mainly because I'm not too savvy in using my cell phone just yet. I'm barely learning the ropes. I'm terrible at taking pictures with the mobile, and using the video camera feature has been tentative at best so far. Hopefully, time will improve my skills.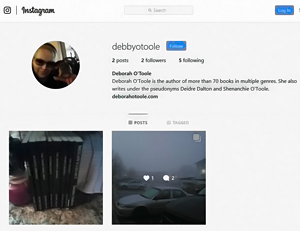 Back to the scammers. More than a year ago, I was assailed by what is known as a "romance" scammer on Facebook. I was never taken by this person (my natural suspicious nature serving me well in this case), but his actions infuriated me. Enough so it led me into going back after these types of online scum.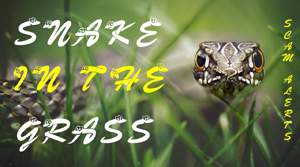 I joined forces with a few of my friends in trapping and exposing almost a dozen lowlifes, splashing their details on a Facebook group I created known as Snake in the Grass: Scam Alerts. In the process, I angered quite a few of the scammers. Somehow or other, one of them got a hold of my private telephone number, calling me at all hours of the night and hounding me online. It took me months to get rid of him, but I know he is still lurking nearby, still on the fringes of my life.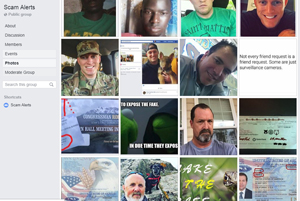 In the process of all this, I learned some valuable lessons about human nature and the fragility of honest interaction between some people. The extremely heavy influx of scammers and other disingenuous individuals almost made me lose my faith in humanity this year, but not quite. To that end, I've since stopped luring scammers because it was not only taking up too much time, it seemed my efforts barely made a dent in the vast pool of bottom-feeders.
However, my overall experience with social media has been tremendous. It's the quickest way to communicate with family, friends and readers. It can also be wildly amusing on so many levels. Apart from the scammers, I have met some extraordinary people, some of whom will hopefully remain friends for life.
The good far outweighs the bad.