Crypt Final
Posted Sun, 10/06/19
While I finished the handwriting phase of The Crypt Artist in early August, the actual editing process which followed took about two months more. Over the years, I've developed my own method of approaching and carrying out the multiple edits. I'm not sure if my way follows any common guidelines per say, but I know it works for me.
After I finished typing my handwritten notes into the manuscript to complete the story, the document was printed. Armed with an ink pen and yellow highlighter, I parked myself on the couch for three days as I read through every word. It seemed to take forever, and produced errors - some small, some not so small - on almost every page. Typical errors can range from simple typos to a scene re-write for maintaining storyline consistency.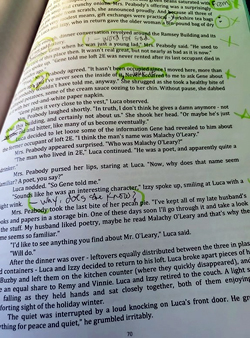 After making the corrections, the document was printed again and I did another focused read-through. The second edit was not nearly as difficult. It actually went much smoother, although it certainly wasn't error-free. One oddity was the increase in the word count, which went up by about 10,000 words. Editing usually involves the cutting of text rather than additions, so in this The Crypt Artist was unique once again.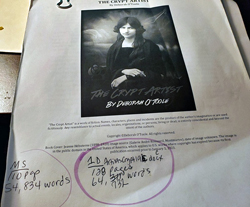 The third edit was more of a random check throughout the document, which I recently completed. The final word count for the book is 65,769. It increased by 10,935 words during the editing process.
The official website for The Crypt Artist is now online, and will be updated as news about the book becomes available.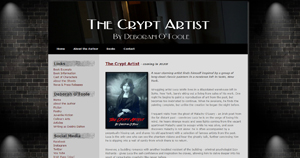 The Crypt Artist holds a special place in my heart for a variety of reasons, many of them personal. And even though I created the character of Malachy O'Leary, his demeanor and snappy repartee made me laugh on more than one occasion during the construction of the storyline, as did the testy grumblings of Howard Russell Butler. There were many late nights of writing where I would simply collapse with hysterics at the antics of my fictional characters. For more about the ghost characters in "The Crypt Artist," click here.
It's a good thing the people around me are so patient, for the most part understanding the writing process and giving me indulgences to do so at my own obsessive pace and style. You know who you are, and thank you.
Next up? I'm back to work on Glinhaven (hoping to finish before the end of the year as the book is 3/4 complete), with Bloodlust following a close second.

*Related Blog Posts: Crypt-A-Coming (10/07/19); Crypt Final (10/06/19); Writing, Editing, Et Al (08/16/19); Crypt Complete in the Great Outdoors (08/11/19); Release Revisions (11/29/18); Crypt Writing (06/10/18).
Tags: The Crypt Artist; Photos & Other Images; Writing & Editing