Ghostly Goodies
Posted Sun, 05/13/18
I've gone mad over this band: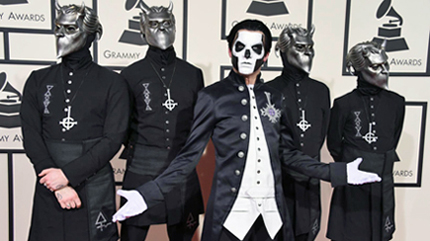 Photo (c) Getty Images. Click on image to view larger size in a new window.
Ghost comes from Sweden, formed in 2006. Their music is mostly hard rock with a demonically gothic twist, although some of the gentler songs are melodic and haunting. There is also a dash of eerie symbolic Catholicism thrown into the mix.
The lead singer is Tobias Forge, while the rest of the band members are known as the "Nameless Ghouls."
Rock and roll spooky is definitely my cup of tea, so yes my weirdness continues unabated.